What are Enzyme Drain Cleaners?
Everyone knows Drano, but have you ever heard of Enzyme Drain Cleaners?
Unlike harsh chemical drain cleaners, enzyme drain cleaners work in a way that is safe for your plumbing system, family and pets, and the environment.
Instead of using harsh chemicals like bleach or alkalines, it contains bacteria and enzymes that break down the organic material in your drains and allow them to be washed away.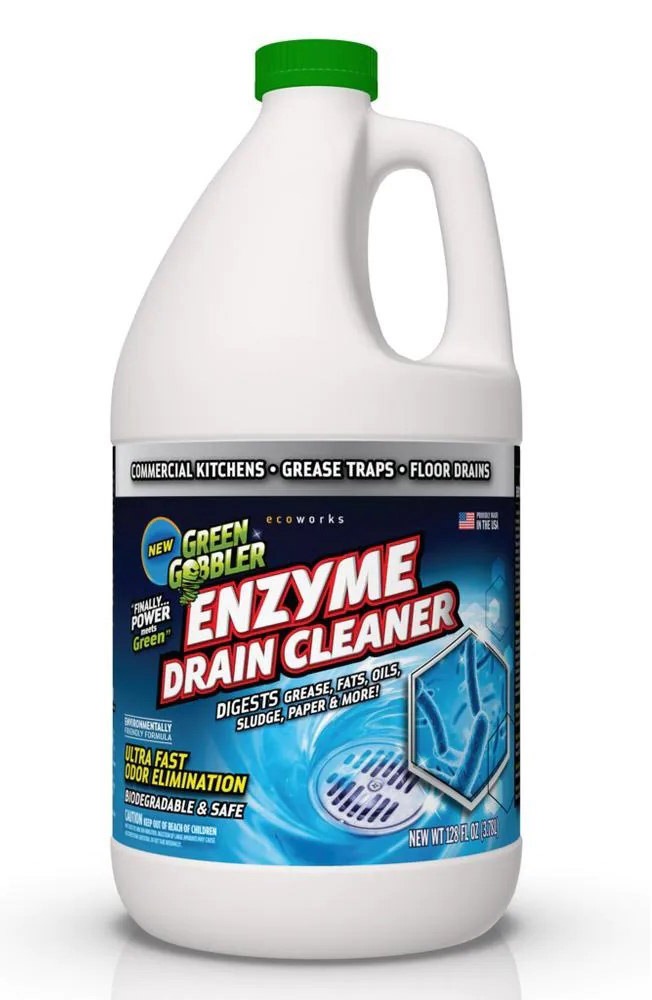 Enzymes are substances produced by living organisms that can cause and speed up chemical reactions.
There are different enzymes that serve different purposes and work using different processes, but generally speaking, they serve to break bigger molecules down into smaller molecules.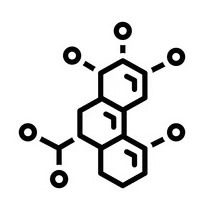 How do Enzyme Drain Cleaners work?
Your drain plumbing system is a simple system that uses gravity to remove waste from your home. Considering how simple it is, it works very well and reliably.
However, as grease and food particles wash down kitchen sinks, organic waste materials flush down the toilets, and hair and skin particles wash down the shower, some of this organic matter sticks to the inside of the pipes. After years of usage, this organic matter catches more and more material, leading to unpleasant odors, slow drains, and drain clogs.
Enzyme cleaners work by introducing enzymes and bacteria into these collections of organic matter. The enzymes break down the complex organic molecules into molecules the bacteria can eat. Given enough time, these enzymatic drain cleaners may even clear bad drain clogs.
How do Enzyme Drain Cleaners work?
The short answer is: yes. However, enzyme drain cleaners are not miracle workers.
If you have a bad drain clog, there is likely a lot of organic matter stuck in the drain. Even the best enzyme drain cleaners need some time to work their magic. As the bacteria consume the byproducts of the enzymes, they will spawn more bacteria which will spawn more bacteria. Eventually, this colony should be able to work through even a stubborn drain clog.
However, this process can take days, weeks, or even months. Nobody got time for that!
Instead, we recommend using Enzyme Drain Cleaners for maintenance drain cleaning. After all, the best cure is prevention, and regular drain maintenance is the best way to prevent calling an Ottawa drain cleaner.
Can Enzyme Drain Cleaners unclog a drain?
Enzyme drain cleaners can clear a clogged drain if you have the time, but enzyme cleaners need a lot of time.
Unfortunately, enzymatic drain cleaners don't work as fast as chemical drain cleaners. The process involves allowing tiny molecules and natural bacteria to eat their way through your clog. If the matter in the drain is large enough, this process could take months.
At the end of the day, the most effective drain cleaner against a clog is a physical drain cleaner: plumber snakes, rooter machines, and hydro jetters.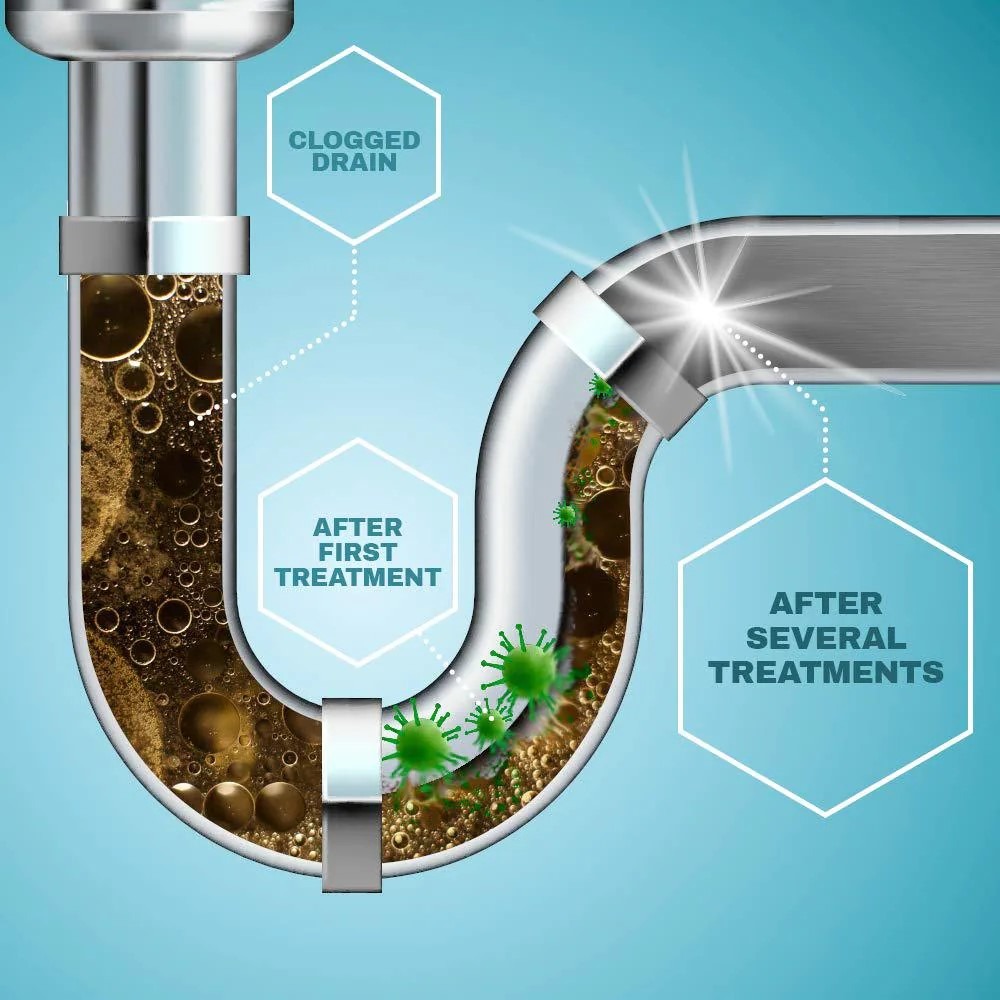 How do you use an Enzyme Drain Cleaner?
There are more than one style of enzyme drain cleaner!
Sometimes, they come in the form of a stick that you drop into the drain. As you use the sink for washing, water will slowly dissolve the enzyme drain cleaner and introduce the enzymes and bacteria into the drains. This will help clean out some of the gunk that has accumulated and prevent clogged drains.
Another type of enzyme drain cleaner requires you to mix it with water before dumping it into the drain. As this enhanced water flows through the system, it coats the insides of your pipes in the enzymes and begins to work its magic.
Additionally, there are enzyme drain cleaners designed specifically for your septic tank. These can come in the form of a pod that you flush down the toilet, and makes its way into the septic tank. From there, it slowly works at breaking down toilet paper and helping push back the need for septic system services.
Pros and Cons of Enzyme Drain Cleaners
Enzyme Drain Cleaner products are pretty great, but they're not without their faults. Read below to learn about the pros and cons of these specifically-formulated cleaning compounds.
What are the pros of Enzyme Drain Cleaners?
There are many perks to enzymatic drain cleaners, however, we must remember that they are not magic.
Some of the benefits include:
What are the cons of Enzyme Drain Cleaners?
While these cleaning products sound magical, they're not without their drawbacks:
Enzyme Drain Cleaners Versus Drano Versus Physical Drain Cleaning
If you're proactively maintaining your plumbing system, an enzyme cleaner is a great way to go. Using these products once a month is a great way to keep the plumber away.
But, if you're dealing with a clog or blockage, you probably don't have time to wait for the enzymes to do their thing.
Our advice will sound biased, but it's true: we advise to use physical drain cleaners. Plungers, augers, wire hangers, and ShopVacs are effective tools to remove blockages without harming your plumbing system. If you don't have the equipment or experience, there are many companies waiting to earn your business.
While a chemical cleaner may unblock your drain today, it's not effective in the longterm. First of all, it will likely only burn a hole through the blockage, instead of clearing it entirely. Secondly, with the possible damage to your plumbing system, we just don't think it's worth risking it.
If you need an Ottawa Drain Cleaner, call John The Plumber today! With our new Peace of Mind Plumbing Program, good plumbing done by licensed experts has never been so affordable!