Blocked Toilet? Don't Panic!
Do You Have a Blocked Toilet?
So you have a blocked toilet in your home. Our Ottawa Plumbers would like to share a few tips you can try before giving us a call. Even if there's no plunger around there are still ways you can avoid doing a walk of shame to get some other assistance. Especially if it's not in your own home. Just remember, Don't Panic!
There's a Plunger!!
If you have a plunger on hand or there's one near the toilet, you're in luck. Most times this is all you'll need to get the toilet flowing again. Just place it in the toilet bowl over the hole and push gently down and pull up. Do this a few times and things should get going. Once the water starts going down the drain you can try to flush again.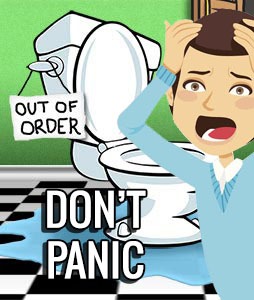 Dish Soap for a Blocked Toilet
You may not think that it would work and you never know, some dish soap might be hiding under the sink… It dissolves the gunk on your dishes, it can help with a small clog as well. If you can find or get your hands on about one cup of soap you're in business. Add the soap and a few cups of hot water. Let it sit for about 15 minutes and try to flush the toilet.
The Coat Hanger
Here's another thing you can try for that blocked toilet. A coat hanger. Odds are you may have one hanging in the bathroom somewhere. If it's a wire one, you've got something you can use. Straighten it out as much as you can and grab a rag to wrap around the end so you don't damage the toilet bowl. This can act as a sort of plunger if there isn't one in the bathroom.
Toilet still blocked? grab your phone and give our Ottawa Plumbers a call!

I wasn't expecting to have to fix my toilet right after moving into my new place. Luckily, John The Plumber was on hand to guide me through the process with their friendly, professional, efficient service. Thomas was amazing from the get-go. Not only was he quick, he was polite, and managed to deal with whatever challenges my bathroom posed head-on. I highly recommend using John the Plumber for your emergency and/or renovation needs!

I had John the plumber at my house to install several vanities and a basement bathroom (3 pieces). Two plumbers came to do the work and part of the job involved breaking concrete to adjust drain locations from the builder rough in. I cant say enough about the work! Im very happy with it and will definitively recommend John the Plumber. The plumbers are very professional and the cost was very reasonable. Thank you John the Plumber!

Our boys flushed and object down the toilet and within a couple of hours Thomas from John the Plumber was had our place and and the object out and everything back to working order. Fast, friendly service. Highly recommended.