Peace of Mind Plumbing Program
The Plumbers You Can Count On
Peace of Mind Plumbing Program – Affordable Plumbing Done Right
When it comes to your home, you want excellent work done by licensed and insured professionals. But the reality is that licensed and insured professionals are often expensive and sometimes out of the budget. Discount handymen often come ill-equipped for the job and lack the experience and skill necessary to efficiently complete a job. Time and time again, John The Plumber has responded to service calls to clean up the mess made by bad work done by unqualified workers.
John The Plumber doesn't want you to experience these unfortunate situations.
The Peace of Mind Plumbing Program is John The Plumber's solution. Superior plumbing services have never been so affordable. With the Peace of Mind Plumbing Program, you can access a licensed and insured plumber with all the necessary skills and equipment whenever you need it. You'll enjoy front-of-the-line booking services for any job, no matter the time or day. With the heavy discounts we give to program-members, you'll spend less money than if you hired someone unqualified for the task.
Great for Home Owners and Landlords
For the affordable price of $12.99 a month, you'll enjoy:
Incredible Savings, Value and Peace of Mind
Complimentary Annual Plumbing Inspections – Valued over $179, this annual Plumbing inspection by a licensed Plumber will guide you towards easy and affordable solutions to prevent needing expensive service calls. As they say, prevention is the best cure! If you experience an issue within 90 days of an inspection, you'll enjoy a $50 credit with John The Plumber.
Up to 50% Discounts on Repairs and Installations During Inspections – Let us know what plumbing services you require before the visit, and you'll enjoy up to 50% discounts on the work. This applies to maintenance AND installs, as well as needed repairs found during the inspection.
20% Discounts on repairs and installations anytime. Many plumbing issues are unforeseen and can't be scheduled during the home inspection, but we'll still accommodate you with a 20% discount. Subject to a 60 Day Wait for Eligibility.
20% Discounts on HVAC Services through John The Plumber. Subject to a 60 Day Wait for Eligibility.
Up to 3-Year Warranties On Plumbing – A 1-Year warranty increase with John The Plumber services and repairs. The Longest Warranty Available On Plumbing.
No Service Call Fee – The $40 Service Call Fee will be waived for all members.
Priority Service – No more waiting days to be fit into the schedule.
Flexible Scheduling – We're already known for accommodating our customer's schedules, but we'll go above and beyond to do everything we can to ensure your convenience.
No Breakdown Maintenance Guarantee for 90 Days – If something goes wrong within 90 days related to our plumbing services or our home plumbing inspection, you'll immediately receive a $50 credit.
$100 Per Year towards Furnace, AC, or Water Heater Replacement – When the time comes to replace your furnace or air conditioner, you'll receive a $100 credit for every year you've been in the program.
Annual Hot Water Tank Flush – We'll flush your hot water tank during annual plumbing inspections, which can increase the lifespan of the tank up by 5 years.
Sump Pump Inspection – Your Sump Pump protects your home during especially wet times, like heavy rains and heavy snow melts. If your sump pump fails and your basement floods, this can cost tens of thousands of dollars.
Backwater Valve Maintenance – Your Backwater Valve is one of the most important protective devices in your home, and we'll confirm its functionality so it won't fail when you need it.
Subscription to John The Plumber's Plumbing and Home Maintenance Tips – We'll keep you updated with good practices and habits to help prevent costly issues in your home.
Want to speak to a representative about the Peace of Mind Plumbing Program?
Fill out this short contact form and a customer service representative will contact you!
Discounts on Plumbing Services
You're probably wondering what plumbing services this program applies to. The truth is, you'll be able to enjoy up to a 50% discount on any of our plumbing services, which includes:
Water Line Installs, repairs, replacements, and maintenance
Who Benefits Most From This Program?
Homeowners often call plumbers at least once a year, especially if their home and plumbing system is old. If you own your home and you want to save money long-term on your home, this program is for you.
Ask yourself:
Is your home older than 5-7 years?
Are any of your pipes made of Galvanized Steel, Copper, or Cast Iron?
Is your Water Heater over 5 years old?
Is your Sump Pump over 5 years old?
Have You Needed a Plumber in the last 5 years?
Are your Water-Utility bills higher than you believe they should be?
Do you anticipate needing a plumber in the next 2-3 years?
Would you prefer to rely on a licensed professional who's as affordable as a generic handyman?
Do you plan to sell your home one day?
When you sell your home, do you want to maximize your home's value?
Do you want Emergency Plumbing Services to be affordable?
Do you want any plumbing services to be more affordable?
If you answered yes to any of these questions, you'd eventually benefit from the Peace of Mind Plumbing Program. Nobody ever wants issues to arise in their homes, but the reality is that home plumbing issues can and will happen to you at some point. When that happens, you may find yourself in a situation that is expensive and out of the budget… but you'll still want to flush your toilet and wash your hands!
50% Off? How can we stay in business?
The 50% discount on services during inspections is a once-a-year plumbing savings extravaganza.
Has your toilet been struggling to flush lately, but not enough to call a plumber?
Have your drains been draining slowly?
Is your sink stopper jamming?
Thinking about replacing a faucet?
Need someone to tighten your shower faucet handle?
How's your water temperature and pressure?
There's a ton of things that could always be better, but that doesn't cause enough trouble to justify calling a plumber for many people.
Members of the Peace-of-Mind Plumbing Program never have to deal with those plumbing annoyances. Keep a list of everything bothering you and your family with the plumbing system, and our licensed plumber will repair and adjust as needed!
It's important that our valued members notify our dispatchers when booking an appointment so that we can schedule appropriately. After that, sit back, relax, and enjoy John The Plumber taking care of all those things bothering you, without having to pay an expensive bill!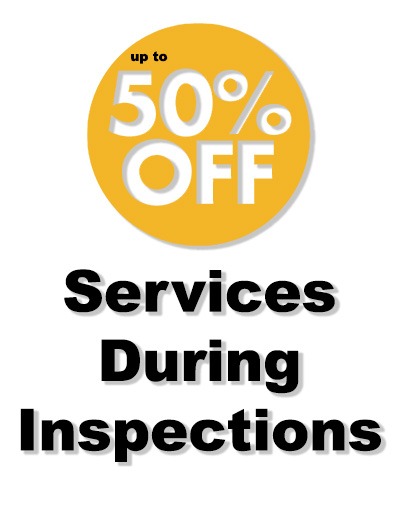 Anyone Can Benefit from the Peace of Mind Plumbing Program
The truth is that anybody can benefit from John The Plumber's plumbing program. Even new homes are susceptible to plumbing issues. Toilets, drains, and sewers clog! Valves age! Water pressure issues can happen to anyone! There are always going to be plumbing issues in the future, and our plumbing program helps to prevent them AND make them very affordable.
On top of the prevention of issues and the savings on fixing them (and new installations!), wouldn't you like to tell a potential homebuyer that your plumbing system has been serviced and maintained every year by Ottawa's best plumbing service provider?
I know that I'd rather buy a home from a seller who can show me a paper-trail of proper maintenance and servicing. Car salespeople provide records of oil changes, and now you'll be able to provide a record of proper maintenance too! With the growing number of Pre-Buy Home Plumbing Inspections, potential buyers have proven their interest in proper home maintenance. The Peace-of-Mind Plumbing Program will add value and saleability to your home.
All this to say, any homeowner or landlord can benefit from John The Plumber's Peace-of-Mind Plumbing Program. We want to earn your business for life, and we're willing to provide you with the best and most affordable services to gain it!
Why John The Plumber is the Local Plumber To Call
We know that there are a lot of competitors in Ottawa, and many of them are very talented. But what separates John The Plumber from the competition is our goal to build lifelong relationships with our customers.
We do this by:
Guaranteed Customer Satisfaction.
Hiring the best plumbing talent available, training and honing their skills, and keeping them on the John The Plumber team!
Licensed and insured red-seal plumbers.
High-quality and proper work.
Finding the best and most affordable solutions.
Fair and affordable pricing.
Flexibility in scheduling and on-time arrival.
Fitting our customers in fast.
Dedication to Quality and Integrity.
Coming Equipped to handle Anything.
Providing excellent Tips and Tricks on Maintenance and Problem-Prevention.
Going above and beyond to earn an incredible reputation.
Want to speak to a representative about the Peace of Mind Plumbing Program?
Fill out this short contact form and a customer service representative will contact you!
John The Plumber truly has his customer's best interests at heart. You can find out for yourself by reading some of our many 5-star reviews and testimonials. I've said it before, and I'll say it again: we want your business for life. Trust us with your plumbing services, and we guarantee your satisfaction now and always.
To find out more about our Peace-of-Mind Plumbing Program and what John The Plumber has to offer, call now!