Call John The Plumber Hamilton today and never have to find another Hamilton plumbing company again. We offer the best warranty among Hamilton plumbing companies, and our Hamilton plumbers are licensed and fully insured to work in your home. Our two year plumbing warranty is twice that of any other plumbers in the Hamilton area. Our plumbers are your best choice for an excellent plumbing contractor experience. Call John The Plumber Hamilton today at 905-645-0467, and never need to find another Hamilton Plumber ever again.
HOW TO REACH OUR HAMILTON PLUMBERS
CITY OF HAMILTON: BACKFLOW PREVENTION PROGRAM
About The Program
The City of Hamilton began a 'Backflow Prevention Program' to protect your drinking water quality by making sure that the appropriate backflow prevention devices had been installed and inspected on private properties in the Hamilton area. These devices prevent contaminated water from flowing back into the city's water system, and can also be found in place in many other municipalities in Ontario.
Our plumbers are qualified OWWA Cross Connection Control Specialists and are more than up to the task of ensuring that Hamilton's Backflow Prevention Program is carried out with CSA and the City of Hamilton's Compliance Regulations.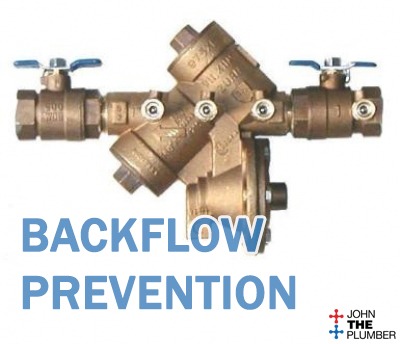 HAMILTON PLUMBING REVIEWS
Amazing service from start to finish. Thank you Rob for all your hard work. Would recommend this service and company to anyone – Ganvas B
Thank you Mike K. for coming out and fixing my leak so quickly. Was lovely to get a phone call to tell me you were close by, and I appreciate the face mask during the pandemic. – Natalie A
We tried others but "John" was far and away the most professional, cordial of all. The prices are reasonable, the clean up complete and the plumber was obviously excellent at his work and his job knowledge was vast. I'm sold. – Ron
Just wanted to thank Mike again for his professionalism and great customer service while fixing my plumbing issue. Not only did he do a terrific job, he explained how to maintain my new shower faucets and left the work space very clean prior to leaving. I would highly recommend Mike. – James
Leaks in Your Hamilton Home: Taking a moment every now and then to check for leaks around your toilet or tub can be a great habit to have. Water can be slippery on some floors and cause falls or it can seep into your floors or walls and cause mold. This means that you may have to spend more money on home renovations to fix the issue if it's gone unchecked for too long. It can also grow into a health hazard for the members of your home.
Contact John The Plumber Hamilton if you notice any small leaks in your home.