This is just a reminder that it's that time of year when pipes and outdoor faucets are going to freeze, break, or burst!
If you haven't already, we recommend that you take a quick moment to check your plumbing and ensure that they're safe and warm, or closed for the winter!
Every Year, Hundreds Of Ottawa Homes Experience Frozen or Burst Pipes!
Close Your Outdoor Faucets, People! Or else, this will happen…
Ottawa winters are some of the coldest out there!
With temperatures often going lower than -20°C in January and February (or worse), it's no wonder that so many Ottawa homeowners come home to frozen pipes, flooded basements, and water damage.
If you're not careful, this can happen to you, too!
Considering that the Insurance Bureau of Canada claims that the average cost of a flooded basement is $43,000, that's a lot of pain and suffering that we don't need!
Why do I need to winterize my outdoor faucets?
A winterized outdoor faucet (aka a frost-free outdoor hose bib) allows you to drain water out of the pipe when you shut off the valve.
Otherwise, since water is a heat conductor, if water remains in the pipe, there's a good chance that the frigid temperatures outside can travel through the pipe and into your home. When the water in the pipe freezes, it expands, and with nowhere to go… You could be facing a broken or burst pipe.
If you're not aware or around to shut off the water supply, the water will begin flooding your basement, wreaking havoc and damage wherever it can.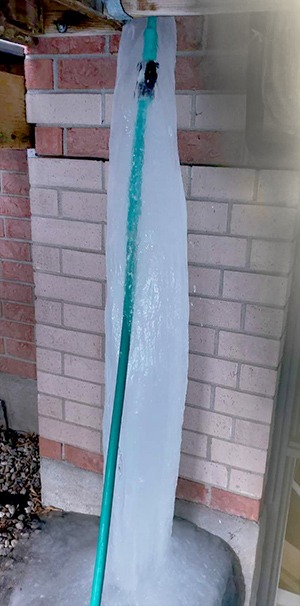 What Happens If My Outdoor Faucet Freezes?
If your outdoor faucet freezes, you'll need a replacement in the spring. But more importantly, you risk leaks and flooding inside your home.
Considering the availability of frost-free hose bibs and the little effort they require, it's extremely easy to avoid frozen outdoor faucets and frozen pipes.
John The Plumber is available and ready to replace your old hose bib with a new frost-free hose bib to ensure that you don't have to deal with any of this during freezing temperatures.
Why do I Need to Disconnect my Hose?
Even if you have a frost-free hose bib, leaving your hose hooked up to the hose bib during the winter can spell trouble for you.
The way a frost-free hose bib works is when you turn the handle to open or close the water supply, the valve that you're opening and shutting is actually about a foot away, inside your home.
When you shut the valve, the water that remains in that foot or so of pipe dribbles out the spout.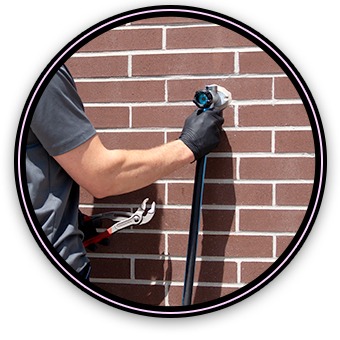 If you leave your hose connected, then the water will likely have nowhere to go, so it will remain in the pipe.
As such, if you leave the hose connected to the hose bib, you're not much further ahead than if you had a standard outdoor faucet, and water can still freeze in the pipe and burst it.
Tips on How to
Prevent a Frozen Outdoor Faucet?
Preventing a frozen outdoor faucet is pretty simple!
1) Disconnect the hose.
2) Shut the valve.
We'd also recommend draining the hose so that it doesn't take any damage this winter.
1) Locate the valve inside your home that controls the water supply to the outdoor faucet.
2) Shut the valve.
3) Go outside and disconnect the hose.
4) Turn the outdoor faucet handle to open it and drain the water.
Additionally, you can purchase Styrofoam protectors to cover the hose bib and protect it from the elements.
What's a Frost-Free Hose Bib?
A frost-free hose bib differs from a standard hose bib in that when you turn the knob to shut the water supply at the hose bib, it closes a valve deeper inside your home.
The valve is about a foot away from the hose bib, inside your home. The benefit is that the water in that foot of pipe will drain out of the faucet, so it can't freeze.
Otherwise, if water were in that pipe and it froze, it could break the hose bib or burst the pipe in your basement.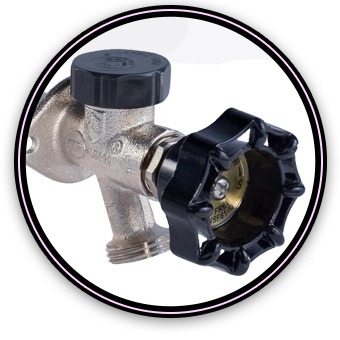 How to Thaw a Frozen Outdoor Faucet?
The easiest way to thaw a frozen faucet is to cover it with towels or rags, and pour hot water onto the towels until they're soaked.
Repeat as necessary.
After it's thawed, you can run the water then shut the valve from the inside of your home to drain the water supply.
If you Have a Damaged Outdoor Hose Bib in Spring, We Can Help!
Frozen outdoor faucets are one of the leading causes of burst pipes and water damage!
It's a serious situation and can have tremendous consequences, and it's important to act fast!
John The Plumber is the emergency plumber near you! We're fast, we're responsive, and we do the work right!
When you're dealing with a plumbing emergency, don't be shy!
Call John The Plumber!