To Have Your Outdoor Faucet Replaced or Repaired Today
Outdoor Faucet Tips for Ottawa Homeowners
Frost free hose bibs is the term plumbers use in Ottawa to describe your outdoor tap. With proper installation and maintenance, your outdoor faucets can last you up to 20 years; unfortunately though, we can't begin to count how many times we've seen brand new frost free hose bibs freeze up. Your outdoor hose faucet is exposed to harsh Ottawa winter temperatures, and if they're not maintained properly, you're going to run into some trouble. The proper installation and maintenance of a frost free hose bib, or outdoor faucet, is to make sure that there is a drain installed upstream of a ball valve. This way, when winter arrives, and the temperatures dip below zero, you can isolate the outdoor tap or outdoor faucet by shutting the valve.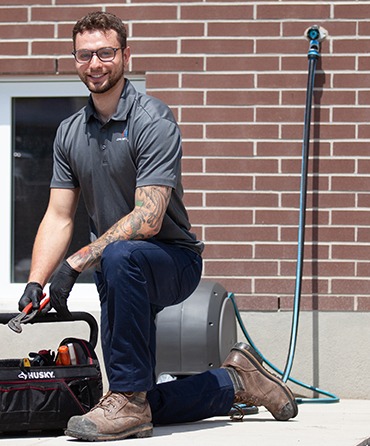 The First Step
After you've closed the valve, there may still be water in the line. The first step would be to go outside and open up your frost free hose bib (outdoor faucet, or tap). This will allow some of the water to escape from the pipe, and we recommend leaving it open for the winter. Then, take a small pail or container and open the drain to allow the rest of the water to drain out. If you follow these steps every winter, your garden faucet or "outdoor hose bib" will hopefully last you years to come.
Why do Ottawa winters affect hose bibs and outdoor faucets?
If you don't isolate and drain your hose bib, then you run the risk of an Ottawa winter ruining your basement. It happens when the garden faucets are exposed to the frigid, cold temperatures. If you haven't drained the line or shut off the valve then this water will freeze inside the pipe. When water freezes, it expands and can cause the pipe to split open. If you didn't turn your valve off, then on the first warm day, the blockage of ice will melt, and probably cause a nice flood your basement.
If you only turn the valve off, and don't have a drain installed, then you still run the risk of splitting the pipe. Hopefully, when you turn the valve back on in the spring, you will notice the split in the pipe.
We once had a customer who was filling his pool, and the pipe was split wide open. When he opened the valve, he couldn't see that the water was running in behind his wall. He then proceeded to stick his garden hose into his pool, and then left to go grocery shopping. Needless to say that when he got back home he had a very nasty and expensive surprise.
This is easily avoided by making sure you have a proper installation done by a professional.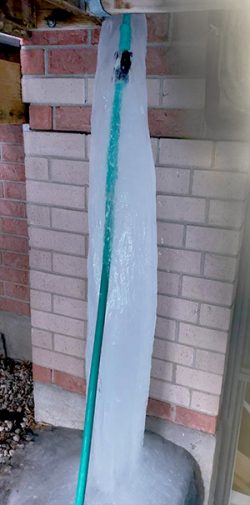 We had a tap replaced outside in the backyard by Bill from John the Plumber. He was polite, professional and very knowledgeable. He arrived on time and completed the job quickly. I would recommend this business without hesitation.

We had a leak in our outdoor faucet. Lance arrived on time, analyzed the situation and fixed the problem. Lance was very professional, knowledgeable and friendly. We were very satisfied with his service. I would definitely use this company again.

Immediate phone response, and the tech who came to install our new hot water tank & outdoor tap was fantastic. He ended up needing to do the install mostly on his own, taking more time than he expected, and had a fantastic attitude and was very engaged the whole time. Walked me through the tests he'd done & how to service the tank going forward, explained everything knowledgeably and clearly, and tidily cleaned everything up after. Asked lots of good questions and broke down the estimate on a way that was transparent and easy to follow. Really quick and fantastic service, very grateful.