Hydro Jetting vs Drain Snaking
If you want to learn about Hydro Jetting vs Drain Snaking, you've come to the right place!
The drain cleaner Ottawa has trusted since 2006 is here to explain everything you want to know!
Your home drain system is cleverly designed to remove waste from your home using little more than gravity. Most of the time, it works smoothly and reliably without any effort – a marvel of our time. But every once in a while, you may encounter slow drains or a blocked drain.
When your drains are slow or blocked, they usually need to be cleaned.
When it comes to drain cleaning services, you have several options. The two most well-known options are snaking the drains, or hydro jetting them.
What is Snaking a Drain?
A drain snake, aka plumber auger or plumbing snake, is a long and flexible metal cable that has a coiled tip at the end. You insert the tip of the cable inside the drain system through the sink drain, clean-out, or P-trap, then push it deeper and deeper until you meet the clog. The flexibility of the cable and the ability to crank and turn allow for the snake to navigate through your waste system, working around the bends until you find the blockage.
Once you meet the blockage, you might break the obstruction or remove it when withdrawing the auger.
Depending on the location, severity of the blockage, and size of the pipe, a plumber may choose from a variety of similar tools that are designed for the same basic purpose. Some examples include toilet augers, drain augers, and drum cleaning machines.
Each of these machines serves a different purpose, from cleaning out a blockage in a toilet to clearing a blockage in a sewer line.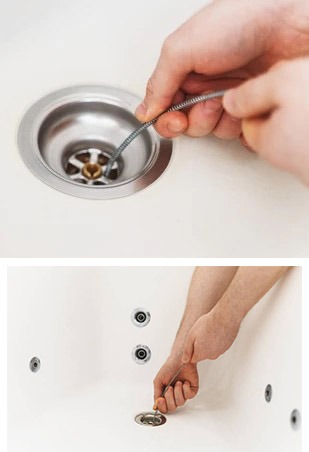 Advantages of Drain Snaking
Most of the time, drain cleaning tools such as plumbing snakes can easily clear clogged pipes and restore your clogged drain.
Although usually effective, a plumbers snake also offers the advantage of being a quick and efficient plumbing service. This means that if you're hiring professional plumbers for this task, it's not going to break the bank compared to other services.
When it comes to simple clogs, a plumbing auger (or plumbing snake) is often an effective solution that will make for a positive homeowners experience.
Disadvantages of Drain Snaking
Not every plumbing problem is the same, and unfortunately, a plumbing snake is not always the right method to solve an issue.
One example is grease clogs.
We should all do our best to avoid putting grease down the kitchen sink, but sometimes, that's easier said than done. If you're cleaning a greasy pan, for example, it's inevitable that at least a tiny bit of grease will make its way through the sink drains, down the drain stack, and into the main drain and sewer.
Unless you're doing regular cleaning on your drain system, some of this grease is likely sticking and accumulating somewhere in the pipes. Eventually, these accumulations harden until the pipe is completely blocked.
Under these circumstances, a drain snake might still help you. But, what's likely to happen is the snake will bore a hole through the clog, allowing for water to flow through… However, it won't clear the blockage completely.
What this means is that the heavy sludge narrows the diameter that water can flow through, restricting water flow, slowing the drains, collecting more matter, and paving the way for additional clogs.
What is Hydro Jetting?
A Hydro Jet Drain Cleaning Machine is essentially a commercial pressure washer designed to clear clogged drains, sewer lines, and even tree roots.
A hydro jet uses a long, high-pressure hose to reach deep inside your waste pipes and blast a high-pressure water jet through the system to clear any accumulated gunk, toilet paper, grease, hardened debris, invasive tree roots, and anything else that has made a home inside your drain pipes or sewer pipes.
Hydro jet machines come in a variety of shapes and sizes. Small electrically-powered jetters are usually effective against minor clogs sink drains and shower drains, while larger gas-powered hydro jet machines blast a powerful stream that can handle stubborn clogs in sewer lines, main stacks, and floor drains.
Hydro jetting services are highly effective at clearing drains, so effective that they can restore your pipes to like-new condition. Whether you're dealing with a clog or routine plumbing maintenance, hydro jetting works.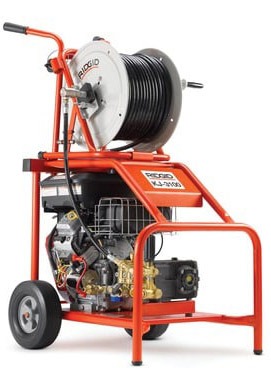 Advantages of Hydro Jetting
Using a strong water pressure, hydro jets blast through clogs, remove tree roots, wash away mineral build up, and clear out other debris without much resistance.
Water jetting is an effective way to blast through years of of accumulations without requiring a pipe replacement or excavation for your sewer line.
Best of all, it can usually be done within an afternoon. It's a highly effective method for cleaning your pipes when a cable machine won't do the trick.
Disadvantages of Hydro Jetting
While highly effective on your waste system, there are certainly some disadvantages to hydro jetting vs snaking.
Primarily, the very thing that makes hydro jetting so effective is also its biggest disadvantage: strong water pressure.
Modern sewer drains and systems can usually handle the concentrated power of these machines. However, older systems may not be able to handle so much power.
If your plumbing system is made of older pipes or fragile pipes, most plumbers would recommend that you avoid hydro jetting machines as you may end up needing to replace your sewer line due to breakages, leaks, and cracks.
How much does Hydro Jetting cost?
As with many questions in home maintenance and repair, the answer is frustrating: it depends.
Hydro jetting prices vary depending on the equipment required, severity of the blockage, condition of your plumbing, location of the clog, cause of the clog, how much time is required, and what rates a professional plumber charges in your area.
Generally speaking, you can expect to pay anywhere between $300 and $2000+ for a hydro jetting service for residential plumbing, and, perhaps more if it's commercial sewer lines.
While this may seem expensive, there are many variables that factor in to hydro jetting costs. First of all, the equipment is extremely expensive to purchase, and requires a lot of maintenance. Ideally, the cost of maintenance would be limited to oil changes and winterizing– however, this is rarely the case as there are many things that can go wrong – and repairing a hydro jetting machine is not cheap.
Additionally, hydro jetting often requires two plumbing technicians, depending on the equipment required for the job.
Combine these two factors with everything else that goes into running a plumbing business, and the costs of a professional hydro jetting service becomes understandable and reasonable.
Is Hydro Jetting worth it?
Only the customer can decide if anything is worth it.
But, if hydro jetting is the best solution to your problem, then it's probably worth it.
Hydro jet machines can clean your system and restore your pipes to how they were when they were brand new.
They can remove tree roots, grease, buildups, and accumulations like few other things can. Best of all, compared to other services that may meet your needs, hydro jetting is often a fraction of the price.
For example, if you're dealing with invasive tree roots, the primary alternative is excavating your lawn, cutting out the old sewer line, and replacing it with a new pipe.
While this is a great solution, it's several times more expensive, and it leaves you with an ugly lawn.
For the solutions and peace of mind that hydro jetting offers, when it's necessary, we'd say that it's worth it.
Can Hydro Jetting damage my pipes?
The short answer is: yes.
But, this doesn't mean that everyone has to worry.
Hydro jetting and snaking can both cause damage to plumbing that is already vulnerable. An old rusty cast-iron pipe, for example, is already at risk of leaks, cracks, and damage. Introducing high-pressure water or a powerful auger into the mix, and you may encounter issues.
That being said, your plumbing expert should be able to identify the condition of your system and whether hydro jetting or snaking is the correct course.
When in doubt, call a trusted professional in your area.
Can't I use a drain cleaner to unclog my pipe?
While there is a time and a place for nearly everything, plumbers usually agree that there aren't many for chemical drain cleaners.
The first issue is that chemical pipe aren't extremely effective at cleaning drains. Oftentimes, they're effective at burning a hole through a blockage so that water can flow through slowly. However, they're not well-known for cleaning a drain effectively like a jetter.
The second issue is that chemical drain cleaners can cause damage to your plumbing system. While some may argue that this depends on your plumbing system, we know there are better, more effective, and cheaper home remedies available.
Generally speaking, when it comes to fixing drain clogs yourself, a plunger is your best friend.
For routine maintenance, you should look into enzyme drain cleaners. They can be effective at preventing issues from occurring while being safe for your children, pets, and the environment.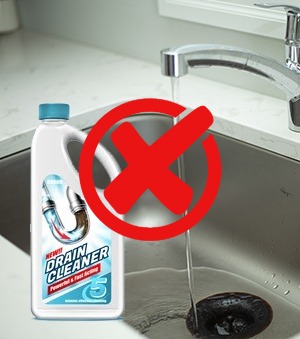 How do I choose a good drain cleaning company?
In our biased opinion, we believe that you've already found the best drain cleaning company.
But, if you want to shop around, all I can advise is that you read the reviews – good and bad.
Any company can tell you what they know you want to hear. But, if they don't deliver, someone out there will say something.
Additionally, some plumbing companies put in the extra effort into managing their reputation. That's the company that will do their best to satisfy you, even if the going gets tough.
Hydro Jetting vs Snaking – Conclusion
When it comes to hydro jetting vs snaking, it depends on the situation. In some situations, a plumbing snake will do the trick. In other situations, they're just a temporary solution and hydro jetting is recommended.
It all depends on the plumbing issue, the budget, and the long-term plan.
At John The Plumber, we usually try snaking the pipe first. Following that, we try to get a plumbing camera in the drain as often as possible. From there, we show homeowners what the interior of their system looks like, so they can make an educated decision on whether or not jetting is right for them.
Our best advice is to find a plumber you can trust, and listen to what they have to say. Some individuals may try to take advantage of you, but those guys usually have a poor reputation. If you do your homework, you can usually find an expert you can trust.
If that expert suggests one option or the other, and you agree with his explanation, there's a good chance that's the right choice.
When you need to find a plumbing expert you can trust, call John The Plumber. With over 400 reviews, and a spectacular reputation, you can trust we'll do everything we can to leave a good impression, and fix your plumbing.