Appliance Installation Services Ottawa
The Plumbers You Can Count On
Home Appliance Installation Ottawa
Hello Ottawa homeowners! You probably found this page by doing a search for appliance installation Ottawa. Installing appliances like a new washing machine or dishwasher is typically out of a homeowners set of skills. Special tools are often needed, and appliances can be cumbersome to move around. Dishwashers are notoriously difficult to install – often they require a lot of patience and a little critical thinking and can often be time consuming, even for plumbers. I am sure you can imagine the jam that a homeowner can get themselves into if they attempt to try this on their own!
Washing machines generally hook up nicely, but you may remove your old one and find your water lines and shut offs running to the machine are seized or corroded and will need to be replaced. Fridge water lines can be run from different points in your home depending on existing fixtures and home layouts, and having a professional, licensed plumber there to do the work will give you the piece of mind you need.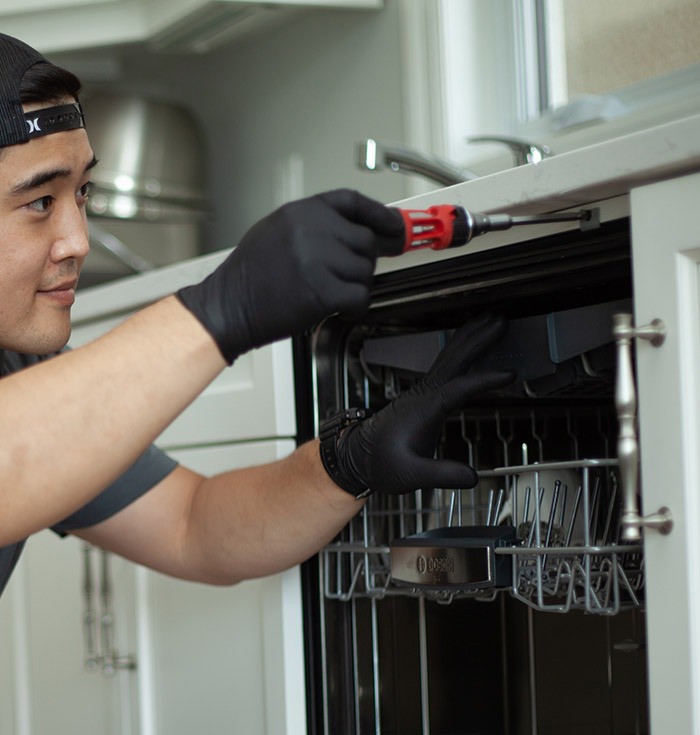 Ottawa Appliance Installation Experts
At John The Plumber, we are the Ottawa appliance installation experts. Bringing more than thirty years of experience to the table, and a great group of licensed and trained plumbers that you will feel comfortable with in your home and installing your new appliances. Our licensed plumbers are the best in Ottawa and are more than capable of hooking up any appliances you might need installed, and removing the old one as well!
John THE Plumber Appliance Installation Services Include:
Dishwasher installations
Garburator installations
Fridge water line installation
Reverse Osmosis installation
Fridge ice maker installation
Washing machine installation
Sump pump, sewage pump and well pump installation
John The Plumber can handle just about any plumbing related appliance installation Ottawa has. Our plumbing service can handle any other plumbing problems or questions that may arise upon removal or installation as well. When we come to install any of your appliances, as an added value, John The Plumber will throw in a free home plumbing inspection as well. Please call us today and book your appointment!
The choice to hire and appliance installation mechanic or a licensed plumber is ultimately up to you. However, when you hire a licensed Ottawa plumber at John The Plumber, you can rest assured that your plumbing to your appliances will be top notch.
John The Plumber
1541 Riverside Drive
Ottawa, Ontario
K1g 4E2
john@johntheplumber.ca
613-227-7465


I selected John The Plumber based on their reviews and it was a good decision! I needed to replace an old washer, install new one and install a drain to the main pipe (didn't like it draining into the sink). David and Shane were very skilled, efficient and professional and also highlighted a few things to watch for in the future (based on the current house plumbing). Very happy with the service. Recommend 100%! Will use in the future again.

I had a washer dryer installed. I am happy with Erik arriving early. 10 min early and asking if he can start work Yes. I am always ready ahead of time. What a pleasant and friendly person, Erik. He is methodical, attention to detail. Marked faucets for hot/cold, faucets that was not indicated before. Covid precautions in place. Thank you for a great installation.