Drain Back Ups and Flooding Services
Drain Back Ups and Flooding
A big question our Ottawa Plumbers get is to do with why drain back ups/flooding occurs, and where the responsibility lies between the homeowner and The City of Ottawa. Drain back ups are never fun and can be quite costly. The more protective measures that you take in keeping your plumbing running smoothly the less chance you will have of having to deal with this type of situation. Sometimes Mother Nature can get in the way, but if you remain vigilant in keeping up with the care and maintenance of your drains the less chance you will still have of incurring hefty damages.
Our Company knows how stressful a drain back up or flood can be so we've decided to write a bit on how the sewer systems work and the breakdown of who is responsible for what part as follows:
Your Sewer System
Your personal sewer system collects all of your home's wastewater through a pipe known as a sanitary lateral. Be it from your toilets, showers, sinks or appliances, this pipe will transport all wastewater to the main sewer line, funnelling it to the City's wastewater treatment facility. Your foundation drains will collect the groundwater that surrounds the foundation of your house. Water from rainfall and the spring thaw is collected by storm sewers and directed to storm water management ponds. Newer homes may have these drains all connected to a combined sewer drain by a sanitary lateral, older models do not.
Blockages stemming from your home can be a result or combination of the following:
Tree roots: Could be from your tree or your neighbour's if the roots have travelled
Buildup of grease and other miscellaneous objects that should never go down your drain
A defect or collapse of your lateral
The City's Sewer System
The City of Ottawa takes great care in keeping the sanitary and storm sewer systems operating at optimal levels via inspection, cleaning and repairs but at times unforeseen issues due to increased water levels can have the same effect – this is also known as surcharging.
Surcharging can happen for a number of reasons as well; generally it's one of the following:
Heavy rainstorms and/or spring thaw
Blockages caused by waste and debris
Construction activities in your area
Structural defects or collapse
Who Is Responsible?
You, (the homeowner)is responsible for the sanitary and storm sewer laterals that run from your property line to your home
The City of Ottawa is responsible for the sanitary and storm sewer laterals that run from your property line out to the street
There can be a shared responsibility if a lateral that requires repair crosses property lines
Are You Experiencing a Drain Back Up or Flooding in Your Home?
Basement Flooding:
Basement flooding is a bit of a wild card; sewer backups can stem from different sources; it will depend on the type of sewer system you have in your neighbourhood.
Tips on basement flood prevention:
Seal up your window wells and cracks in your floors and foundation
Slope ground away from the foundation; this will allow rainwater to flow away from your home
Direct downspouts from eaves troughs away from your
Ensure your foundation drains direct water to the storm sewer or sump pump.
Ensure the sump pump is connected to the storm sewer
Install protective plumbing devices, such as backwater valves which protect against surcharging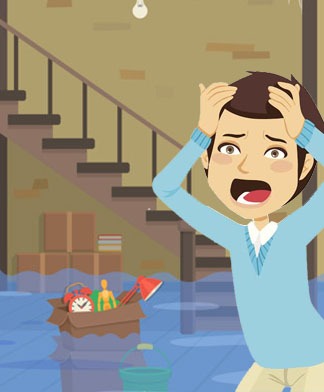 We hope this had given you some of the answers that you were looking for; for further information and/or if you are experiencing drain backup or any other plumbing issues call John THE Plumber Ottawa today and we'll send one of our licensed Ottawa Plumbers over to you – You'll be glad you did!