Spice Up Your Kitchen or Bath
Faucet Installation and Replacement
Bathroom and Kitchen faucets are the backbone of home sanitization. Installing a new faucet is a great way to garnish a kitchen. Faucets come in all shapes and sizes, and some can be extremely beautiful and functional. Some faucets are fixed in position, while others have useful pull-down sprayers. But shopping for the perfect faucet and installing it can be a little overwhelming. John The Plumber is here to help!
Faucet Installation Experts
Installing a faucet can be more frustrating than you expect. There are several components that need to be connected and installed properly, and the process often leads to leaky water shutoff valves. Don't flood your basement to save money!
A faucet installation from a licensed plumber is a quick and easy process. We've done it thousands of times. Don't grease and cut your fingers trying to manhandle the connections in place. John The Plumber offers faucet services to save you the work.
We offer flexible scheduling and on-time arrival. When it comes to faucets, we're the faucet experts.
Call John The Plumber for a fast and easy plumbing experience!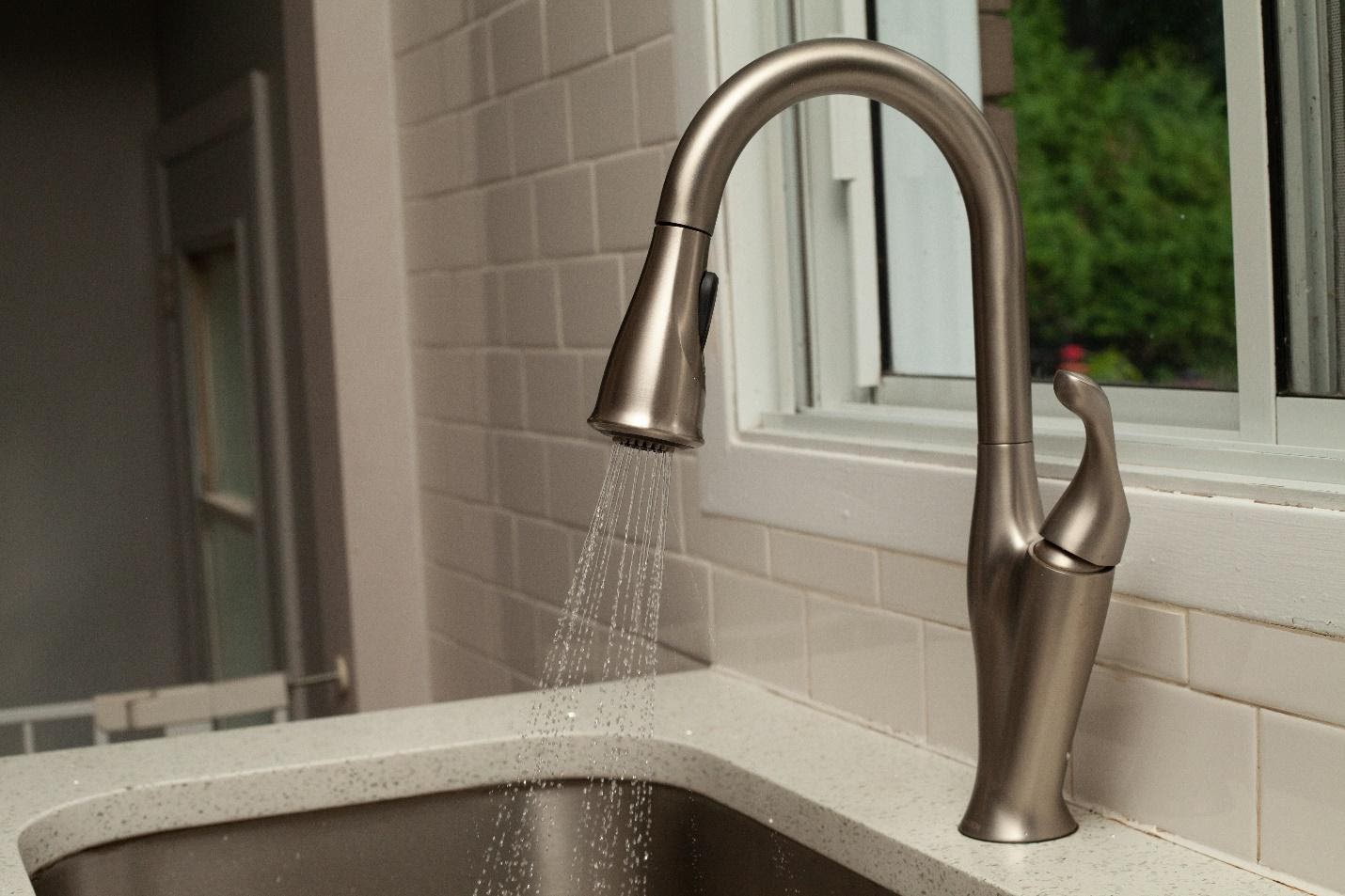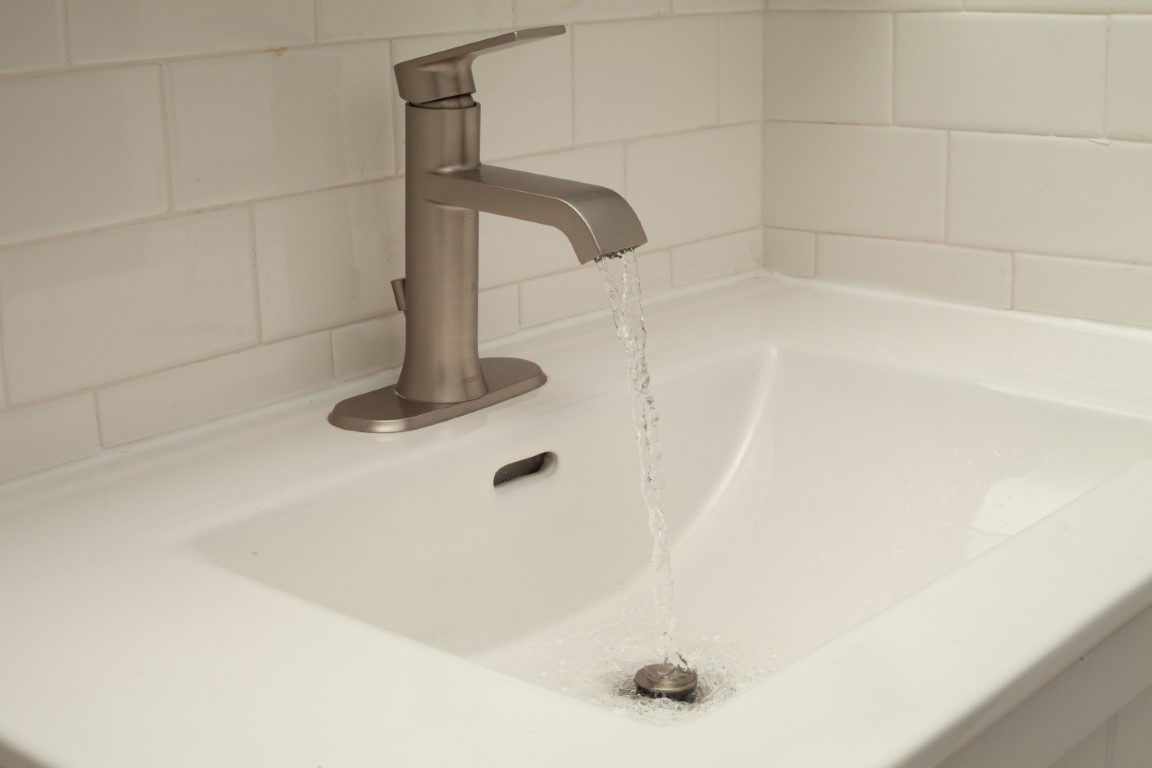 Faucet Brands We Offer
With so many brands and models available, choosing the right faucet can be a daunting task. When in doubt, ask one of our experts when discussing the faucet installation or replacement. After many years of faucet installation, replacement, and faucet repair, our experts know what faucet makes and models will likely fulfill your needs for many years to come.
Some of the brands we choose to offer include:

Not many brands are recognized and rated so highly across the board. With aesthetics, reliability, and innovation as considerations, you can't go wrong with a Moen faucet.

Choosing Delta means choosing efficient and responsible water usage, innovation, and a new generation of features to make your life that much easier.
Faucet Options
Faucets come in all sorts of styles, sizes, and shapes. They vary in mounting holes and accessories. And they can come with some surprising features.
Single Lever – Both hot and cold water are controlled from a single controlling lever, offering easier control of the water temperature.
Two-Handle Faucets – Control the water temperature with a traditional hot and cold handle system.
Spray and Stream – A sprayer can make washing dishes easier, but sometimes you need a steady stream! Many faucets come with both options at the press of a button!
Pull-Out Spout – Pulling out the spout allows you to aim the water stream accurately and clean with precision. You won't have to maneuver large pots and pans around a fixed stream with a pull-out spout.
Hands-Free Faucets – Have you ever washed your hands then turned the faucet off your clean hands? You probably transferred a lot of germs back onto you! Have you ever handled raw chicken, then turned your kitchen faucet on? Great, now your kitchen faucet has chicken germs! Hands-Free Faucets have grown in popularity since Covid began, and we understand why! Upgrade to a Touchless Faucet and you will never have to worry about this again.
Choose John The Plumber for Faucet Installations. Call John The Plumber today!
Why Choose John The Plumber?
John The Plumber has been serving Ottawa since 2006! We know all the ins and outs of your home's plumbing system. Our expert plumbers are quick to identify problems and solutions. We're in the business of building customer relationships. We'll Install your new faucet quickly and affordably.
With John The Plumber you can expect:

I called in panic unable to fully remove my old kitchen faucet., (and stuck without water supply to the whole house). Brent was there within 30 minutes of my call, was able to cut apart my old decrepit faucet, and even install my new faucet all within an hour. Just in time for baby's bedtime bath. The installation is flawless and I am now enjoying my new faucet as well as having water to the whole house again. Happy day!

Jonathan came to install the kitchen faucet for us. We are exceedingly happy. Fair value. Vince
John The Plumber has an ambitious goal. He wants to be the best plumbing service provider in Canada. We take pride in our excellent customer service, our skilled plumbers, and our ability to get the job done fast… But what about making the best plumbing services more affordable?
We're now offering the Peace of Mind Plumbing Program. This program rewards our loyal customers with huge discounts on plumbing services, waived service fees, front-of-the-line booking, credits towards home appliance replacements, and so much more. Click Here to learn more about our new program, and find out how we can save homeowners and landlords money.