Emergency Plumbing Services
24 Hour Plumbers Here For You!
Basement flooding? Overflowing toilet? Leaking pipes or drains? We're here to help. 24 hour plumbers for all your emergency plumbing needs!
Some plumbing issues quickly become plumbing emergencies, and when they do, you'll need an Emergency Plumber. John The Plumber is available 24 hours a day, 7 days a week, so we can be available for you in your time of need.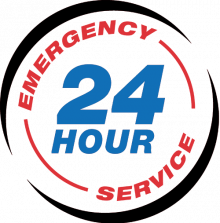 Some common Plumbing Emergencies include:
Contact us anytime to get in touch with our 24 hour emergency Plumbing Ottawa service. We can provide you with a licensed plumber for any of your emergency plumbing needs. Whether your basement floor drain is backing up and causing floods, or a pipe has burst, at John The Plumber we can provide the residents of Ottawa plumbers at all times of the day whenever an emergency happens, 24 hours per day.
Our 24 hour emergency plumbing service will ensure that the plumber coming to your Ottawa home, will come equipped with the necessary equipment to deal with many different emergency plumbing situations. Shop Vacs, drain augers and snakes, fans, a sewer camera, a variety of caps and valves, are just a few of the many items we stock in our plumbers van to ensure that we are equipped for the plumbing emergency, whatever it may be.
We have had situations in the past where customers would email us with a plumbing emergency rather than call. Please be advised that filling out our contact form will not get you in contact with a plumber, if you email outside of our business hours.
Please Call us at 613-227-7465 if you have an emergency plumbing issue, 24 hours a day.
Sending a plumber to a service call in the evening or during the overnight hours does add some cost to our regular rates. When you request a plumber to come to your home during the evening or overnight hours, you're asking him to stop what he has planned that evening, and to come fix your plumbing. He is being paid extra to do this. Our plumbers are compensated fairly for providing this service, so please understand that there are extra costs involved to offer this type of service. In order to book your 24 hour emergency plumbing service call, you will be billed $135 to dispatch our plumber. Once he arrives, he will then assess what needs to be done to complete the repair. After he updates you on what needs to be done he will then provide you with a price to proceed with the work. Upon your approval, our emergency plumber will proceed to fix your plumbing issues.

John the plumber saved my bacon when the pipes froze. They were very quick in responding to my call and helped us in our emergency. I would definitely recommend them to everyone who needs plumbing services!!! – Review from Emile S, Ottawa
Worked hard to get us prompt service for a sudden emergency. Brent was professional, helpful, polite and answered our questions. Recommended! – Review from Mary P, Ottawa
I had a weekend plumbing emergency with our hot water tank. They sent Brent right away who got us sorted quickly. He was friendly and professional. I will call them again for sure. – Review from P L, Ottawa
Needed to do an emergency sump pump replacement after a basement flood. John the Plumber was super efficient to book with, did quality work and explained exactly what was going on to me as they did the work. Would highly recommend! – Review from Susan M, Ottawa
Needed to do an emergency sump pump replacement after a basement flood. John the Plumber was super efficient to book with, did quality work and explained exactly what was going on to me as they did the work. Would highly recommend! – Review from Susan M, Ottawa
Jonathan, Eric and Thomas were absolutely amazing in the service they provided. Called first for an emergency, they came quickly and more than exceeded our expectations. Our home is a mobile home; nothing was standard and they had to be creative, and search out the appropriate fittings. They were professional, straightforward, respectful of our home, personable and did a wonderful job. We would highly recommend them. – Review from Martine D, Ottawa