Heating Service and Repair
HVAC Services
Whether you want it to be hot or you want it to be cold, John The Plumber can help.
We know that when your air conditioner isn't working and it's hot out, you need an air conditioner repair technician fast. And, the same can be said when it's cold, and you need a furnace repair service.
At John The Plumber, we pride ourselves on making the HVAC repair service as quick and painless as possible. From first calling us to cleaning up when your repair is finished, you can count on a convenient and reliable solution. We're in the business of solving your home service problems, and we want to make it easy.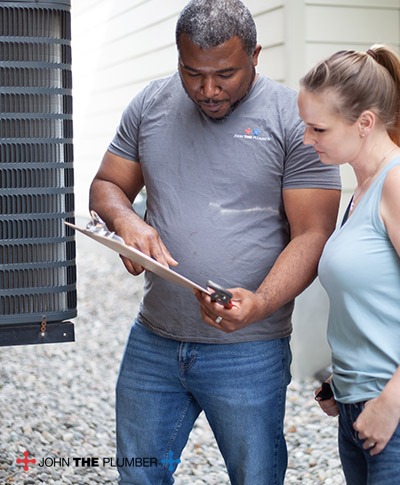 Call John The Plumber today and book an appointment with the #1 HVAC service and repair experts near you!
Heating Service and Repair
Furnace Repair and Maintenance
As much as we'd like them to, furnaces don't last forever. When you find yourself in an uncomfortably chilly situation, don't hesitate to call John The Plumber to fix your furnace.
Our furnace repair technicians will guide you through the repair process and help you to determine whether a repair or a replacement is the most cost-effective and reliable solution.
We're here to help, and you can count on John The Plumber to offer honest information with reliable results.
Annual Maintenance and Preventative Inspections
Many heating repairs can be avoided by properly maintaining your air conditioner or furnace.
Unfortunately, many homeowners and residents find themselves in expensive situations with big repair invoices because a small problem got worse.
At John The Plumber, our HVAC repair technicians are trained to identify heating issues before they become emergencies.
From filter replacements to coil cleaning, we've got you covered. If it's been some time since an HVAC specialist near you has inspected and maintained your HVAC units, we'd advise that you book an appointment sooner than later.
A little maintenance is an easy way to save money, and a little TLC goes a long way!
Why Choose John The Plumber for HVAC Services?
It's no secret that John The Plumber is one of the leading local experts when it comes to plumbing… We're fast, friendly, and reliable.
But, that's not where our home services stop!
Since 2006, we've been building a team of the best local talent available. We're growing into a one-stop-shop for all residential home services.
We've built our brand through offering reliable and efficient services, squeezing people in as quickly as possible, arriving prepared, and honouring our industry-leading warranties.
We're just as reliable and honest when it comes to HVAC and furnaces as you know us to be with plumbing.
If you prefer saving time and reliable results with a smile, then you prefer John The Plumber!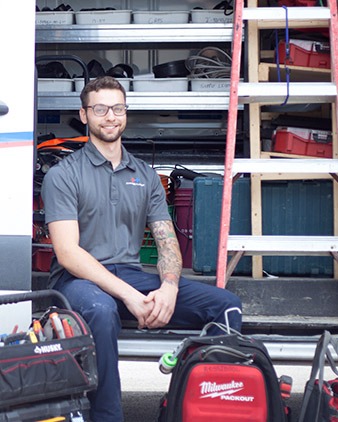 Brent showed up on time, very friendly, was honest and frank with what could be done and what didn't have to be done, which I super appreciated. It was a good experience to be honest – highly recommended.

Professional, friendly, considerate, and clean. Rick did the job efficiently and explained the process.