Hydro Jetting Drain Cleaning
Hydro Jetting
A plumbing system built properly should give you very little problems if you treat it right. But unfortunately, sometimes a bit of grease goes down the drain here and a bit of coffee grinds goes down the drain there.
After a while, you may find yourself with a serious drain clog.
Some clogs can be cleaned out easier than others, and sometimes you need to pull out the big guns.
What are the big guns that I'm talking about? Hydro Jetting!
What is Hydro Jetting?
Hydro Jetting is using a machine that can pump water into your pipes with a lot of pressure. This stream of water can blast through the pipes and clean the insides of your plumbing system.
Hydro Jetting is a great way to clean out grease, food matter, and other debris that have built up in your pipes over time.
Due to the high pressure and velocity of the water stream, Hydro Jetting tends to offer a superior cleaning compared to other methods. Some other methods poke holes in blockages and clogs. Hydro Jetting blasts blockages and clogs to pieces, annihilating them and preventing their recovery.
Is Hydro Jetting the Only Solution?
When it comes to sewer repairs, most people turn to sewer snaking services. Plumbing and drain cleaning companies will use specialized sewer cleaning equipment that can drill through matter and tear it apart so that it flushes down the drain.
However, the quality of a sewer cleaning that you get may not compare to a hydro jetter.
This is because hydro jetter machines use powerful jets of water to destroy everything in the sewer. The same water that destroys buildups and blockages also flushes the water away. The end result of hydrojetting your sewer is that the sewer looks new again!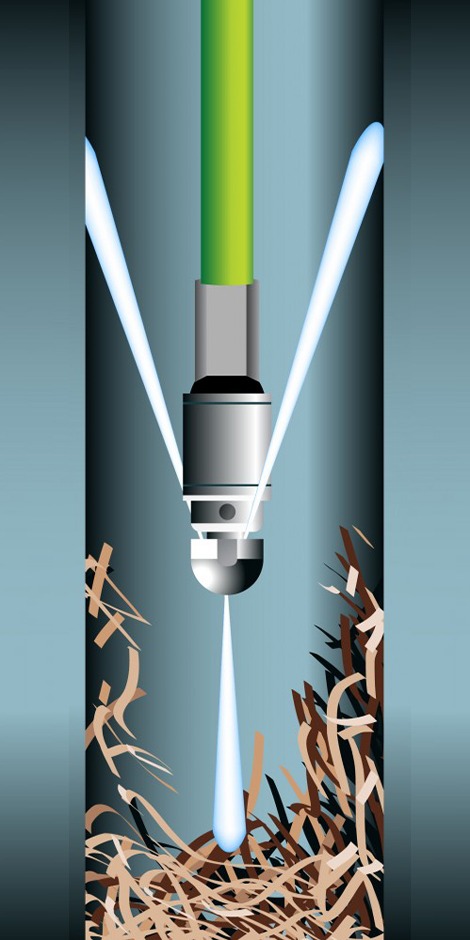 If you have a drain blockage, then call John The Plumber.
Our plumbers are local drain cleaning experts. Time and time again, our valued customers praise us and give us kudos for successfully completing a job where our competitors failed.
Call us today!

Great service, clean work and well mannered plumber. I recently had issues with a blocked drain line which John the plumber came out and cleared. I was also able to book them for the same day so we were up and running right away! As far as GTA prices go they were good and fair. Will use again. Thanks!