Call John The Plumber Kingston today and never have to look for a new Kingston plumbing contractor again. We offer the best warranty among Kingston plumbing companies, and our Kingston plumbers are licensed and fully insured to work in your home. Our two year plumbing warranty is twice that of any other plumbers in the Kingston area. Our Kingston plumbers are your best choice for an excellent plumbing contractor experience. Call John The Plumber Kingston today at 343-477-1970, and never need to find another plumbing contractor ever again.
HOW TO REACH OUR KINGSTON PLUMBERS
KINGSTON BACKFLOW PREVENTION PROGRAM
What is the Kingston Backflow Prevention Program?
The Kingston Backflow Prevention Program assures that equipment is installed to prevent sullied water from flowing back into the city's water supply. Guaranteeing public safety and long-term safety of shared water resources. Numerous individuals are unaware that backflow conditions can endanger system water quality, posing a health risk to consumers drinking water from the system.
What does backflow mean?
In most cases, drinking water flows from the City's distribution system into a property's private water system. Backflow transpires when there's a reversal of water flow, conventionally due to changes in water pressure. This 'backflow' can cause pollutants to enter the drinking water system.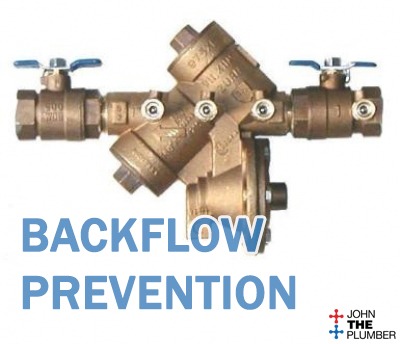 KINGSTON PLUMBING REVIEWS
We tried others but "John" was far and away the most professional, cordial of all. The prices are reasonable, the clean up complete and the plumber was obviously excellent at his work and his job knowledge was vast. I'm sold. – Ron
I have had John the Plumber into our house on 2 separate occasions and the work they provided was exceptional. They were on time, professional and extremely knowledgeable. I would highly recommend this company to anyone needing emergency plumbing services done right. – Mark