Kingston ON Drain Cleaning: We Unclog Sink Drains, Toilet Drains, Shower Floor Drains, & More
We'll Clear, Repair, or Replace Your Clogged Drains Faster Than Any Drain Cleaners In Kingston.
When you're dealing with clogged toilets, backed-up sinks, or clogged drain backups, you can't wait a week or longer for a drain cleaning professional to show up to your Kingston home.
At John The Plumber, we put you – the customer – first.
When you call John The Plumber, you can expect fantastic service, every time. That usually means same-day plumbing service, incredible customer service, honest plumbers, and high-quality work.
Call now to book Kingston's best plumbing and drain cleaning company! Satisfaction guaranteed!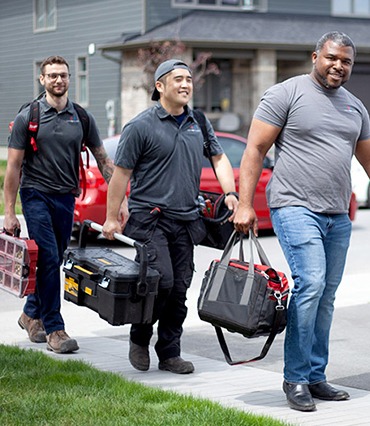 Kingston Drain Cleaning Services
From simple clogs to stubborn sewer line blockages and sewage backups, our Kingston plumbing team has got you covered!
Grease, coffee grinds, eggshells, butt-wipes, dental floss, and a million other things can contribute to a blockage in your drain. This can lead to drain back-ups, leaking pipes, and other issues. John The Plumber is equipped with many tools to handle even the toughest clogged drain!
Hair, soap residue, and other products can cause shower or bathtub blockages. We can often remove the clog through the overflow or shower drain, reducing damage to your ceiling below.
Drain backups occur when you experience a drain blockage down the line, and waste rises up from the lowest nearby drain. These backups can be unhealthy and they can cause thousands of dollars in water damage if they're not handled properly. Make sure that you use a professional drain and plumbing services company, as improper handling of a backup may flood the area.
A sewer backup can occur when you experience a blockage in your sewer line and your own waste rises up from a drain, or when your public sewers overflow and ejects sewage into your home.
If the sewer backup is caused by a blockage in your line, jetting or rooting the blockage should do the trick. However, in order to prevent a sewer from overflowing into your home, you may want to consider installing a Backwater Valve.
Using a Plumbing Drain Camera, our plumbers can see the inside of your pipes and reveal any problems in your plumbing system and its location. This allows us to complete big repairs with as little damage to your floors, walls, or yard as possible.
Hydro Jets are powerful power washers that are designed to clean the inside of your plumbing system. They can maneuver through turns in the pipes, and annihilate anything in its path. Hiring us for a routine Hydro Jet Drain Cleaning or to use our Hydro Jetter to destroy a blockage is a great way to restore your drains to a like-new condition.
How Often Should Drain Pipes be Cleaned?
We advise doing maintenance sewer cleaning every couple of years. Good plumbing maintenance is an effective way to reduce plumbing issues and expensive emergency repairs! Otherwise, you may experience a sewer blockage which can lead to a sewer backup inside your home.
That being said, many Kingston homeowners choose to only hire sewer cleaners as needed, when they're experiencing issues.
Ultimately, it's up to the homeowner, their budget, and their preferences.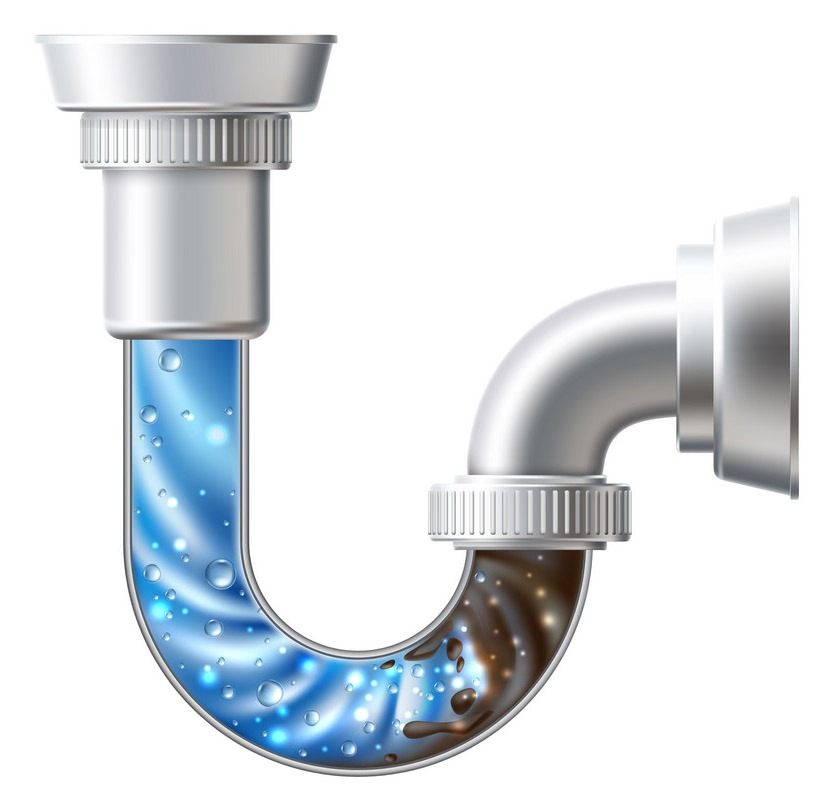 Why Choose John The Plumber?
At John The Plumber, we truly believe that we're the best plumbing company in Kingston. We put tremendous effort into customer satisfaction and providing an elite level of customer and plumbing services.
Some things that set us apart:
Same-Day Drain Cleaning Services
On any given day, we'd be willing to bet that we're the fastest company to book your service call. We pride ourselves on our ability to offer same-day service for our valued customers and schedule customers faster than any of our competitors.
Licensed and Insured Plumbers
When hiring a plumbing contractor, it's important to make sure that the people you hire are qualified and insured. Our residential plumbers are licensed professionals. They've been working plumbing systems in Kingston homes for many years, and you and your house are protected when you choose our drain services.
Proper Equipment
Not every piece of equipment can be used for every job. However, many independent plumbers and smaller companies simply can't afford the proper equipment and maintenance. As a result, they often use subpar equipment and make it work for purposes they weren't designed for.
This can lead to bigger problems as repurposing tools can sometimes cause as many problems as they can fix.
You'll never experience that when you hire our drain and sewer services, as our plumbing team is well-equipped to handle all residential drain issues.
Excellent Communication
Not only do we quickly respond to customer phone calls and work orders, but our plumbers keep in contact with our clients every step of the way. We'll let you know when we're on the way and an ETA, we'll let you know when we arrive, and we'll communicate what we're doing and why we're doing it so you understand the process!
Friendly Customer Service
From the moment you call us until the moment our Kingston plumbers are leaving, you'll be impressed by our friendly service and polite demeanour. We're in the business of offering good service, and we don't know any companies who can match our world-class customer service!
We're Reliable Professionals
Since we first began serving Kingston, all those years ago, we have been the top choice for reliable plumbing services. We communicate with our customers when we're on the way and we keep them up to date on the status of our plumbing technicians. You can count on John The Plumber to provide reliable service on service calls every time!
Efficient Service
Our technicians don't waste your time! It's important to us that when doing repairs or drain cleaning that we work efficiently. We want to be known for fast and efficient services, as we think that is one of the keys to excellent plumber services!
Upfront Prices
Few things are more frustrating than paying for several hours more than you would have if your serviceman had worked hard. At John The Plumber, we discuss the rate for the job upfront, instead of charging by the hour. This way, when you agree to the price, you know exactly what you will see on the invoice.
Emergency Plumbing Services
If you need an emergency pipe cleaning or repair, we're the Kingston plumber to choose. We're available for longer hours than most of our competitors and we're the fastest to react. Whether it's a blockage, small leak, or frozen pipes, it doesn't matter! We're available when you need us!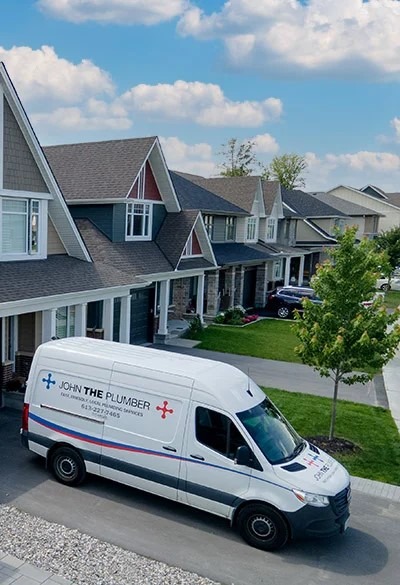 What Do Kingston Homeowners Say
About John The Plumber?

I've used John the Plumber three times now: twice for leaking pipes, once for a backed up drain. Each time Rick has been a quick, effective, and polite. I appreciate that he takes the time to explain what the cause of the issue is, why it's happening, and what he needs to do to fix it. Excellent service.

Was very pleased with help received from JTP and Rick. We called during the weekend and scheduled a Monday visit to clear out our kitchen drain. Rick was very professional and helpful in that he told us what he was doing and why. Not fun to have a slow moving drain but Rick was definitely helpful in overcoming that challenge. Highly recommended.
Helen, Kingston, Ontario

Travis arrived and assessed we needed a shower repair immediately. Within the hour Tyler arrived and repaired the shower drain. He was knowledgeable, professional and organized. He also, inspected other plumbing concerns which we have.
I would not hesitate to call upon these 2 professional men for plumbing issues. Great job men!! Thank you!

I got a response within minutes of requesting service from John the Plumber! When Ricardo showed up to fix my clogged pipe, he was great at explaining what the problem seemed to be, how he would fix it, what the cost would be, and what I could do to try and prevent the problem from happening again. He was friendly, professional, and efficient. My entire experience from start to finish was incredibly positive. Highly recommend!