Sewer System Backup Services Ottawa
A backup in your sewer system. This situation is nothing you want to deal with for long at all. It is an issue that can quickly have an impact on your life due to the stench and all the unpleasant that comes with it.
Tips That You Have a Blockage in Your Sewer System
There is no toilet water in your toilet
Your basement and/or your house smells rancid
Sewage water is back flowing into your bath tub or toilet
Your water is draining slowly or not at all
Your toilet is making gurgling noises at you
More Blockage Tips to Take Note of if You Have a Septic System
Wastewater is leaking onto the ground near your septic system
Algae / weed growth in a pond close to your home
Very green grass growing over your septic system
Your septic system water has tested as contaminated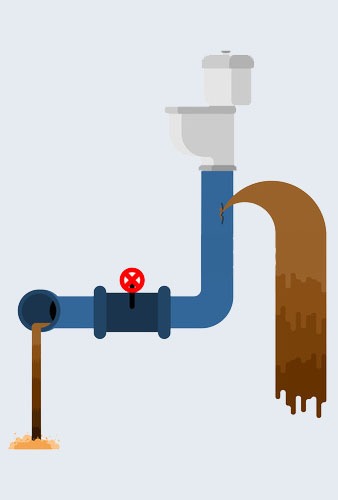 Where is Your Clog Located?
A clog in your sewer system can cause sewage backups throughout your entire home. For example, if you see that just the one toilet, sink or tub is backing up then it most likely is a clog in that specific drain only. But if every time you flush sewage backs up everywhere into your home, you are then looking at a blockage in your main sewer line.
Our Ottawa Plumbers Will Diagnose and Fix Your Sewer System Clog!
If you are experiencing a clog in your sewer system, it's time to call in a professional plumber. At John THE Plumber we use state of the art equipment. One of the first things we will do is lower a camera into the blocked area to find out the exact cause of the blockage. Be it tree roots or a broken, even collapsed sewer line our licensed professional plumbers will be able to determine what has caused your sewer to back up and provide you with the best options available.
Not a DIY Project
As you can see from our website, we encourage homeowners to try DIY projects before calling us in – this is not one of those times. Lack of experience trying to fix a problem this size can easily result in further damage. For instance many a homeowner has chosen to try and fix a sewer clog using Draino. The end result was further damage to the pipes and a larger expense than necessary. Give us a call today at John THE Plumber Ottawa and we'll send one of our licensed and knowledgeable plumbers to you right away-we'll have your pipes de-clogged and your property smelling daisy fresh again in no time!