Ever wondered if you know how to Use Your Plunger Properly?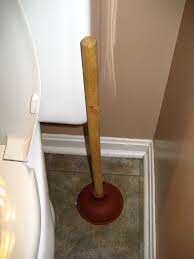 Using a plunger to unblock your drain is one of the most effective ways to clear a blocked drain. Many people take the plunger for granted, and go straight to buying over the counter chemicals. The truth is that a plunger is typically far more effective than any over the counter product you could buy to clean your drain. Our Kingston plumbers share their secrets to using a plunger effectively.
Plunging a toilet
You want to press the air out of the plunger slowly on your first push, then while maintaining the seal, plunge vigorously to dislodge the blockage. Try to keep the water level high enough that it keeps the plunger submerged.
Plunging a sink
If you're plunging a double sink, or a sink that has an overflow, in order for your plunger to be effective, you're going to need to block off the overflow, or the second drain in the other sink, in the case you have a double kitchen sink. The air will just go out of the opening when you plunge, instead of pushing the blockage. Covering the other opening, by stuffing it with a wet cloth, then following the same steps as you would for unblocking a toilet, is the way to go. Start with a slow push, then once you have your seal, plunge vigorously while keeping the water high enough to cover the plunger
Plunging a bathtub
Our plumbers in Kingston recommend a similar approach to plunging a sink, when plunging a bathtub. The overflow pipe on the bathtub is your opening that you will need to block off. Take a face cloth and get it wet. Then try and cover the overflow with your hand and the cloth, and try and hold it in a way that there is no seal lost. Then proceed plunging in the manner described above. Make your seal, press the air through, then plunge vigorously while keeping the water higher than plunger until your tub drains.
Our Kingston plumbers are glad to help out and offer this advice. If you'd like to know more about our services, or if you can't get that drain fixed on your own with a plunger, then you may want us to come out and use some of our specialty tools to unblock your drain.