Ottawa Sump Pump and Ground Water Expert John The Plumber, Submersible Sump Pump Installation
CALL NOW FOR A SUMP PUMP REPAIR SERVICE IF YOUR SUBMERSIBLE PUMP HAS FAILED 613-227-7465
A properly working emergency sump pump system in your home, will go unnoticed for years. You will barely know your submersible sump pumps there most of the time, and in the spring you will probably hear your submersible pump humming, and never think about it again until the next time it rains, or the snow is melting. But if your sump pump has failed, you're going to be in a load of trouble if you don't get it working again as quickly as possible.
Sump pump installation
Sump pump Maintenance
Submersible sump installation
Battery back up sump pump
Titan sumps
Liberty sump pumps
Water powered sump pump
Interior weeping tile installation
Wet Basement
Basement flood remediation
Sump pump repair service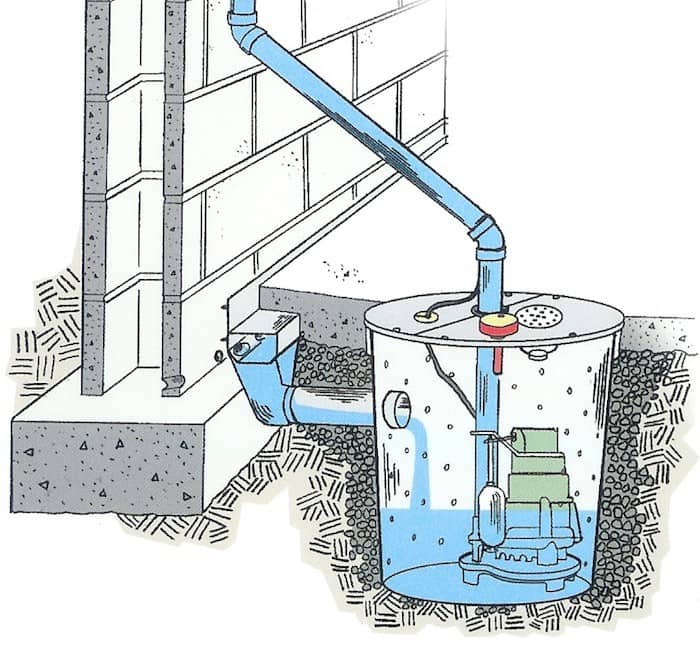 Battery backup sump pumps
Battery backup sump pump's will provide you with peace of mind in the event that your existing sump pump were to fail. This is not uncommon. Every time Ottawa gets a big rain, or the snow starts to melt, our phones seem to light up with people whose sump pump is not working. Often times a battery backup sump pump would have saved the Ottawa home. Some people will live in an area that has a high water table. In these areas it doesn't matter if it's raining or not. If the power goes out and you don't have a battery operated back up sump pump, you are probably going to have some puddles in your basement. It is not overly expensive to have a battery backup pump installed, so we always recommend it to anybody who requires a regular sump pump.
Weeping Tile
Weeping tile is an integral part of a properly functioning submersible sump system. If your weeping tile is not working properly, your pump will struggle to remove the water from around your foundation effectively. If you have noticed some water damage coming through your floor, and your sump still seems to be working properly, you most likely have a blocked weeping tile. Especially if your house was built pre-1975 They used to use clay weeping tile, and the problem with the Clay weeping tile is that over the years it has become very brittle. We rarely see a home with a functioning Clay weeping tile anymore. At John the plumber We can assess your weeping tile system and provide you with solutions for basement water removal and basement waterproofing.
If you are having groundwater, or sump pump issues with your emergency sump pump system, please contact us today at 613-227-7465