Battery Back Up Sump Pump Services
Battery Back Up for Your Sump Pump is a Good Idea!
Battery back up sump pumps are a home saving tool when it comes to flooding; their function is to literally back up your primary pump should it become overwhelmed by heavy rainfall or thaw, or if it fails due to power outages or mechanical failure.
You may think it's an unnecessary expense but wouldn't you rather have peace of mind?
Your sump pump will keep running, even when the power goes out, so it can save your basement from flooding.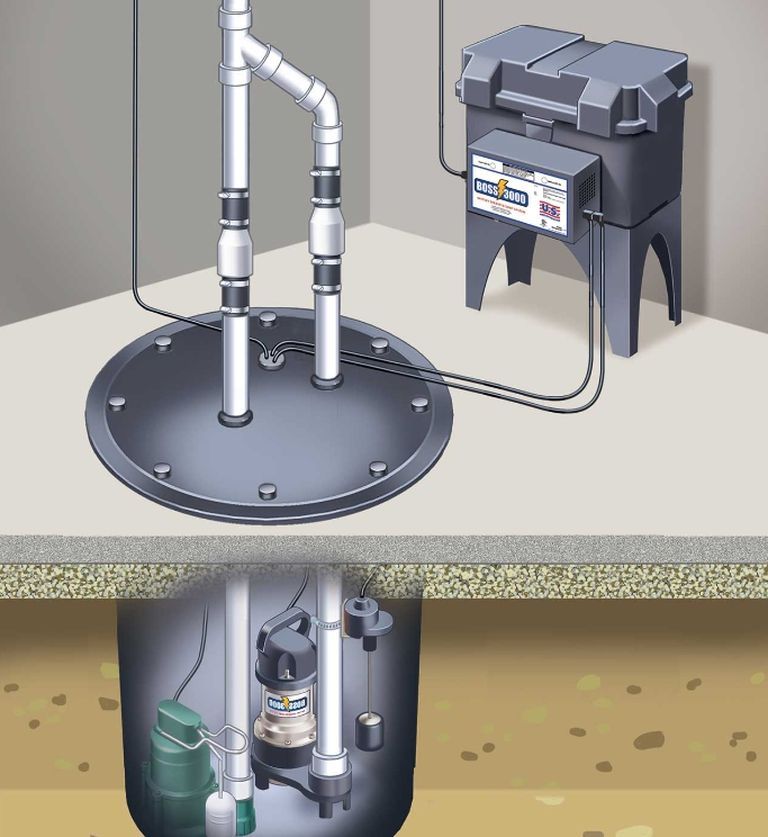 Batteries and Sump Pumps
Back up sump pumps are available in two types: DC and AC/DC. The battery back up system will switch to the DC battery power when the AC power has gone out and/or if your primary pump should fail. Some pumps can run directly off the AC wall current without depleting the battery while the power is working steadily, and other back up sump pumps will run only off the DC battery once the power is off.
Which Battery Back Up is Right For You?
It's important to note that there is a further division in the types of batteries as follows:
Deep-cycle maintenance-free batteries, also known as marine batteries. These batteries are sealed so that you can set them in place and not worry about them.
Lead-acid batteries, also known as wet cell batteries. These batteries so require a bit of maintenance in that you will need to add distilled water occasionally to keep the lead from drying out. Lead acid batteries are most commonly found in vehicles.
Your Float Switch
Your float switch is an important piece as it will trigger your sump pump when the water level rises high enough above your water table. Most switches will come with your pump (primary or battery back up), but separate ones can be purchased and installed to give you that added layer of protection. Smart float switches now exist as well; this technology will send an alert to your phone to let you know something is up – it doesn't get any easier than that!
Water Alarms
Some sump pumps have long been designed with an alarm set to go off if there's an issue, and technology has improved this feature greatly over time. Similar to the float switch we just described, you now have the option to have an alert sent to your phone should there be cause for alarm.


Needed to do an emergency sump pump replacement after a basement flood. John the Plumber was super efficient to book with, did quality work and explained exactly what was going on to me as they did the work. Would highly recommend!

I am very satisfied with the installation of a sump pump by Jonathan. He was both professional and knowledgeable. Jonathan explained the benefits of a battery back-up and made sure I understood the details of the work before proceeding. I appreciate his efficient and courteous customer service. I will certainly look to John the Plumber again for future plumbing needs.
Again, investing in a sump pump backup system is the best way to ensure your home is kept dry and safe no matter what. You just need to choose the one that will work best for you and your family. Give us a call today at John THE Plumber Ottawa and we'll be happy to share our knowledge or send over one of our Ottawa plumbers for a consultation, repair and/or new installation. Many of us don't think about these things until a flood actually happens and then it's too late to avoid the situation – make the call today.
You'll be Glad You Did!