General Plumbing Services
The Plumbers You Can Count On
General Plumbing and Repairs
Every plumber and plumbing service provider offers something a little different to stand out.
John The Plumber offers fast, friendly, and reliable plumbing and customer service.
We understand that some jobs are plumbing emergencies, and speed is the name of the game. We are proud of our ability to accommodate our customer's busy schedules, arrive quickly and on time, and solve your plumbing problems efficiently and reliably.
If speed, convenience, friendliness, and good work is important to you, then John The Plumber is who you should choose.
Call us now to book an appointment, book an appointment online, or read below to find out how we can solve your problems and why you should always choose John The Plumber.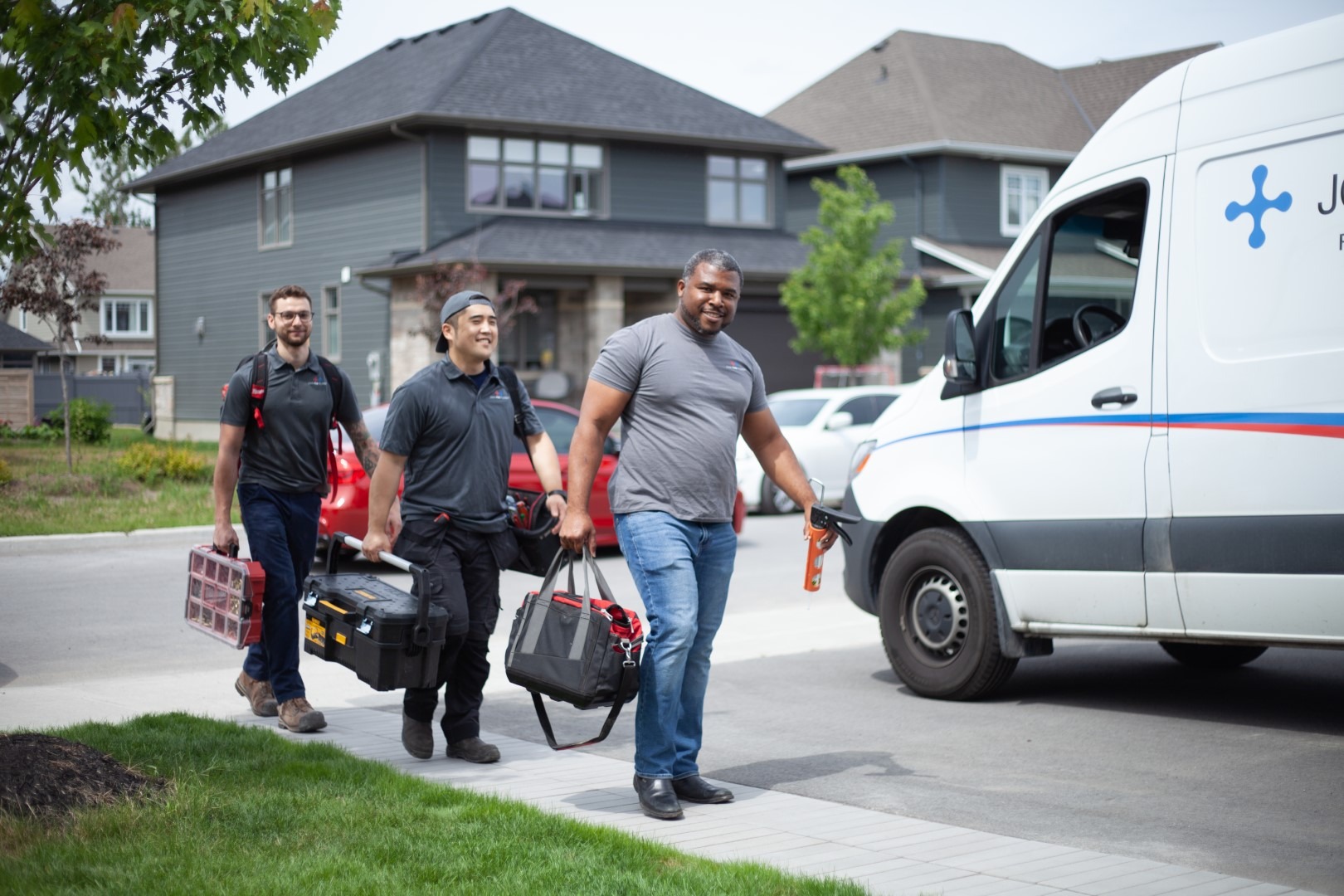 We're Not Just Any Ol' Plumber
We're John The Plumber
Plumbers Near You That You Can Trust
Why Choose John The Plumber
Choosing John The Plumber means choosing a higher level of plumbing services. We make the plumbing transaction fast, easy, and friendly, from our quick and accommodating scheduling to our world-class customer service.
We've offered premier residential plumbing services since 2006, and we have never strayed from our commitment to customer satisfaction and loyalty.
We don't want to earn your business for the day. We want to earn your business for life. Our goal is to offer plumbing repairs and services at such a level that you never want to call anyone else.
John The Plumber is a Canadian plumbing service provider with integrity. We offer affordable plumbing solutions to fix and maintain the integrity of your plumbing system. We'll educate you about the cause of the problem, our preferred treatment, and alternative resolutions so you can make an educated decision in the driver's seat.
Please read some of our reviews and testimonials below so you can hear what your neighbors have to say!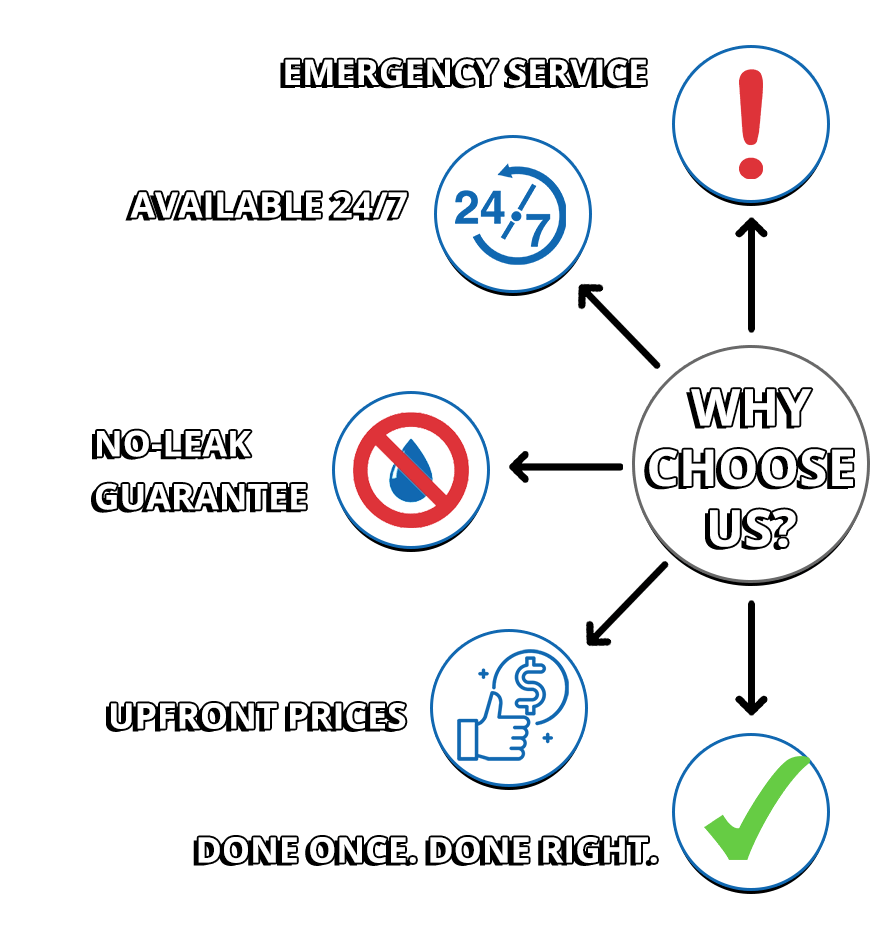 David was our plumber. He did an amazing job, gave me more then a fair price, and came within an hour of me calling john the plumbers phone number. David described what needed to be done and how much it would cost in advance. Which was amazing! Best service that I could've asked for. Thank you so much David!! I will definitely call him again when needed, 10 out of 10 recommended. Victoria Nichols

Awesome service. Mike was efficient and went over and beyond to make sure the job got done and saved me hundreds of dollars. He fixed my shower handle without having to break the tiles. Thank you for such great service. John the Plumber is the way to go for plumbing needs.

We are very happy with the services provided. The lady who answered our call was extremely helpful and polite. We were dealing with a bit of an urgent situation and Rob was excellent! He was professional, polite and knowledgeable. He was quick to fix the issue and also took the time to explain what was wrong. Highly recommend them!

John the plumber was recommended to me, and I highly recommend them as well. Very professional, accommodating and fast. Thank you so much for your work!

Michael was amazing. I wouldn't use any other plumber. He was respectful, knowledgeable, pleasant, professional. He exceeded my expectations.

Rob was timely, efficient, professional, and very helpful and friendly! We had a blocked drainage pipe and Rob took the time to explain what was happening and went through every option with us. He did an excellent job rerouting and installing a new standpipe and kept us informed throughout the job. They were a bit expensive but would definitely use them again for the quality of their work. Would highly recommend you ask for Rob for any of your plumbing needs!

I selected John The Plumber based on their reviews and it was a good decision! I needed to replace an old washer, install new one and install a drain to the main pipe (didn't like it draining into the sink). David and Shane were very skilled, efficient and professional and also highlighted a few things to watch for in the future (based on the current house plumbing). Very happy with the service. Recommend 100%! Will use in the future again.

I called late in the evening to help with a blocked kitchen sink and Eric was here promptly the next morning and quickly resolved the issue. He called to give me warning that he was on his way, was on time, and followed COVID protocol. He was polite and quick, cleaned up neatly, and sink is working great! He also gave some advice on my kitchen plumbing set up and how to avoid future clogs.

Travis called to give us a heads up that he was 15 minutes away. He showed up masked, diagnosed a calcium buildup in our toilet that was leading to weak flushing, cleaned it out good as new! Thank you Travis, great service! I'd recommend Kingston's John the Plumber to anyone!
Furthermore, We Guarantee Quality Service at Affordable Prices!
Plumbers Near You – Available 24/7
When you're experiencing a plumbing crisis, you need help fast. That's why John The Plumber keeps an emergency plumber available at all times in most service areas. We know that your plumbing emergency can't wait.
Whether your pipes burst in the evening or your sewer backs up on the weekend, we're here for you.
We will react fast, book an appointment right away, arrive promptly, and take care of business. You'll never experience a plumbing emergency when you choose John The Plumber.
Consider subscribing to our Peace of Mind Plumbing Program and enjoy 20% discounts on plumbing services, any time.
Regardless of opting into our loyalty plan, we're confident that you will be satisfied with our rates, evenings, or weekends. And with our satisfaction guarantee, there's no reason to call anyone else in your time of need.
Satisfaction Guaranteed.
John The Plumber has built a reputation repairing what other plumbers have "fixed."
When you want your plumbing system handled the first time correctly, trust our local plumbers. We go above and beyond with our customers to offer a unique and satisfying customer experience.
Our No-Leak guarantee means that your plumbing service will be done right the first time. But, on the rare occasion that something goes wrong, you can trust that John The Plumber will have your back. That's why we offer the longest plumbing warranty in the region.
We've been offering the best plumbing experience for 15 years and have a proven track record of satisfying our long list of loyal customers.
Since bad news travels faster and farther than good news most of the time, we wouldn't be able to boast about our hundreds of 5-star reviews if we weren't the real deal.
Choose John The Plumber if you want to choose customer satisfaction. We're looking forward to earning your 5-star review!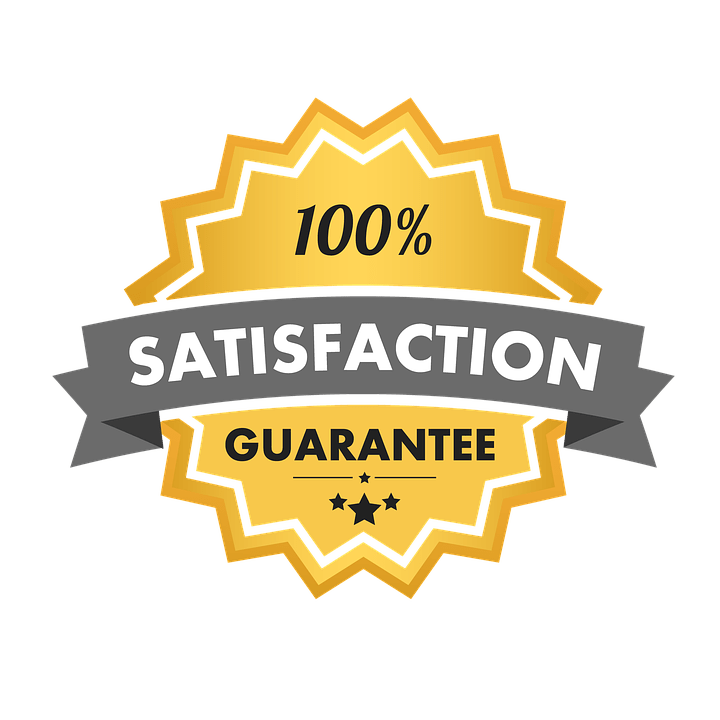 A plunger, dish soap, and hot water, or baking soda and vinegar, maybe all that you need to fix your drain at home. But sometimes we need to pull out the big guns! We offer many free DIY hacks that may work, or we're happy to solve your toilet clogs and drain blockages efficiently and fast!
What can we help you with today?
Plumbing Installations & Replacement
Installing plumbing fixtures or appliances can be challenging and frustrating if you don't have the time or experience. We can make it easy. Call John The Plumber to book an appointment or schedule an appointment online, and a plumber near you will arrive promptly and install or replace your fixtures fast!
What can we help you with today?
Drain & Sewer Cleaning & Backups
Whether your water is draining slowly or not at all, we can help! John The Plumber can help with any and all drain and sewer situations. We understand that you need a solution fast, so we will accommodate your busy schedule and book an appointment right away!
What can we help you with today?
A leak around your toilet may be pretty obvious, but some leaks can be sneaky!
John The Plumber and his team are the leak detection experts. We are masters of repairing leaks while minimizing damage to the surrounding area. If you notice water damage or puddles and pooling in inexplicable areas, we can locate the problem and take care of it.
Call now to book an appointment or book conveniently online!
Protective Plumbing Devices & Inspections
There are numerous ways to protect your home and prevent significant plumbing repairs. John The Plumber offers both annual and pre-sale plumbing and HVAC inspections so that you can experience peace of mind, knowing that your plumbing system is safe and maintained.
We also offer numerous plumbing installations to protect your home from flooding, freezing, backups, and more!
What can we help you with today?
Hot Water & Water Heater Service & Repair
If you are surprised to find yourself in a cold shower, we can help! While we've heard cold showers are a healthy way to start the day, they're frustrating and uncomfortable when you don't expect it.
John The Plumber is happy to help with all hot water and water heater issues. Call us whether you need a water heater installation, repair, or adjustment! We're known for our speed, and we'll return your hot water in no time!
What can we help you with today?
John The Plumber is proud to now offer Ottawa and Kingston HVAC Services. Whether you need hot air in the winter, cold air in the summer, or a simple vent cleaning – we are happy to help!
Call John The Plumber and book an appointment with one of Ottawa's most reliable HVAC specialists.