Electric Hot Water Tank Maintenance Tips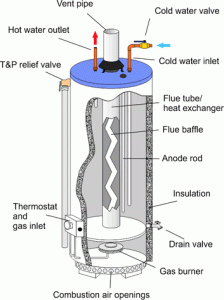 If you are in a cold climate, you probably cannot live without hot water. Therefore, tank water heaters are always a part of us. Nowadays, you will certainly not have a problem in terms of your need for hot water if your electric hot water tank is maintained.
Nevertheless, there can still be another challenge. That is to say, if you don't take proper care of the water heater, you may end up destroying its major parts. This is true mostly in situations when the water heater is leaking or inability to heat water. Hence, all that is required from you is to take proper of your heater so it will always give you the services you need in your daily life.
Below are some electric hot water tank maintenance tips:
Checkup. If you have little understanding about checking up the tank heaters, it is advisable you contact Ottawa plumber professional. It is essential that all the parts of the heater are checked annually to ensure smooth performance.
Drainage. From time to time, you need to drain water from the heater's drain faucet. So that the dirt at the bottom of the tank will be eliminated, as they cause corrosion and reduce its heating efficiency.
Valve. It is important that you do an annual checkup of the tank heater's pressure relief valve to see if the valve is still in good working condition. However, care should be taken when doing this one as the tank is hot and can burn.
Leak. As opposed to the electric tank less hot water heater, you need to give attention to this kind of heater because it is very much susceptible to some kind of leakage.
Indeed, if you electric hot water tank, know that you need to give it more attention, mostly if you are used to having tank less heaters. Always have it in mind that proper care and maintenance will determine its efficiency as well as the length of its service life span. And by following these steps once in a year, you are sure your water heater will be preserve at an acceptable level while saving a lot of money in the long run.
Have questions about your hot water tank? Contact the professionals at Ottawa plumber company John the Plumber today!