John The Plumber Ottawa is your local bathroom plumbing expert.
Adding a bathroom to your home, or renovating your bathroom will bring back a lot of value to your home if it is done correctly.
Bathroom plumbing, needs to be done correctly and Ottawa plumbers, John The Plumber is your number 1 resource for getting this done correctly. The Ontario plumbing code sets strict standards as to how the plumbing in your bathroom is installed.
Some things to consider when taking on a project like a new bathroom would be:
BATHROOM PLUMBING LAYOUT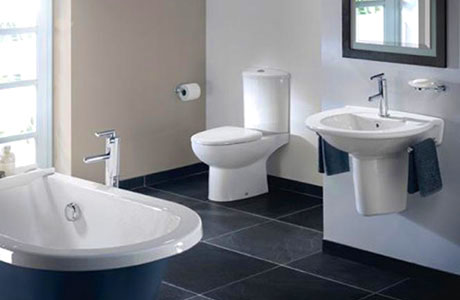 Sometimes, your bathroom plumbing will be restricted by your floor joists.  Bathtub plumbing lines and your sink plumbing lines can go just about anywhere in your new bathroom, but the toilet can be a restriction.  The pipe size for a toilet can be too large to drill out the floor joists, and can restrict your options, when it comes to deciding where the toilet will go. Call us today to book a consultation to plan the layout of your new bathroom plumbing. Or give our friends at Gordmay Construction a call as they are the bathroom renovations experts in Ottawa.
BATHROOM PLUMBING FIXTURES
Selecting your bathroom plumbing fixtures properly can really affect the price of the plumbing in your bathroom.  Almost all of the "fancy" plumbing fixtures that you can buy at "fancyplumbingfixtures.com" can be found in a similar style in both Moen or Delta.  The advantages to using these brands is that they are much easier to install, thus more cost effective.  The other big advantage is that down the road when your fixtures start to get old, parts for these two brands are almost always available at the local supplier.  This is probably the most important factor when deciding which bathroom plumbing fixtures to use.  Nobody wants to have to take apart their bathroom to fix a plumbing problem that easily could have been solved with a part from a major brand.