Not much longer now and cold November rain will turn into a winter deepfreeze. Winter is one of the premiere times to expect something to go wrong with your home and that includes plumbing issues with your pipes. You know how cold it can get Oakville, if your pipes aren't ready for it you may run the risk of pipes freezing in your home, and that is a nightmare you do not want to deal with. Here at John THE Plumber we've provided some helpful tips if you do encounter frozen pipes and what you can do to thaw frozen pipes:
Find The Pipe
The first step is to find the pipe that is frozen. Begin your search by turning on each faucet in your home one by one and see which ones have running water and which ones do not. If you see water flow from some faucets and not others it may be the pipe that is connected to the specific faucets that do not have any water flow. If there isn't any water coming from any faucet in your home then the frozen pipe will most be likely found right at your main water supply.
The pipes for your main water supply may be located in a crawl space that is uninsulated if you have one, or a good rule of thumb is they are the ones usually located on the side of your basement that faces your street.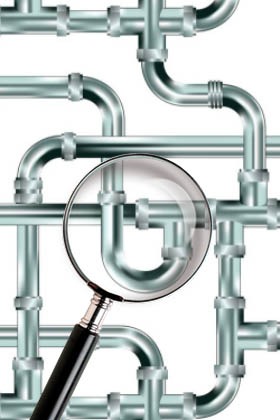 Once you have determined which pipe it is, run your hand along it to find out where the freezing actually is within the pipe. Wherever you feel the coldest spot is where the pipe froze. Depending on the type of pipes you have, you will also want to check for cracks, splits or bulges – especially if they are made of copper or plastic. If you do notice any of these call our Oakville plumbers immediately; these issues can cause flooding in the area when they thaw and/or burst.
Space Heaters
If the frozen area doesn't appear to have any cracks, splits or bulges you can try and thaw out the pipe. Space heaters placed nearby the frozen pipe are often seen as a good option is to circulate warm air within that area. Do however be cautious when using a space heater however, leaving the device unattended for long periods of time can present a fire hazard as well as if you place it too close to the pipe. If you have any chemicals or flammable products in that area, make sure you remove them before you turn the heat on (EG: Cleaning supplies that are kept near a pipe that is under the sink).
The Hair Dryer
Another popular home option is to use your hair dryer, you can actually monitor how the pipe is thawing as you go. Again you need to be careful as hair dryers can get super-hot. You'll also need some time and patience as somebody needs to be holding the hair dryer while it's thawing out your pipe!
If at any time you are unsure of what to do, or are worried that you have bigger pipe problems coming, please give our Oakville Plumbers a call. We'll be happy to send a professional to thaw you out!
To discover more on the full range of services offered by our Oakville-based John the Plumber, please call our offices today at 289-644-3856 or visit our business website at johntheplumber.ca/oakville