Kingston plumbers, John The Plumber would like to remind everyone to shut off their outdoor taps this winter. Frozen pipes are a big concern in Kingston, heading into the holiday season. Last season our Kingston plumber, and our Ottawa plumbers for that matter, were up to their ears in frozen pipe calls, and the number one culprit was the outdoor tap. That doesn't mean that other kitchen and bathroom fixtures were problematic, but outdoor taps or as us plumbers like to call them, frost free hose bibs were the number one offender. Check out this guide to see how you can shut off your outdoor taps, and prevent it from freezing.
For every single frozen pipes call that we received last year that wasn't an outdoor faucet, poor insulation was the culprit every time. The header cavities of the floor joists seemed to be the coldest spots, and any piping running near them would freeze. Once our plumbers thawed and repaired the frozen pipes, they would call in one of our trusted insulation contractors, and they seemed to always be repairing the same areas.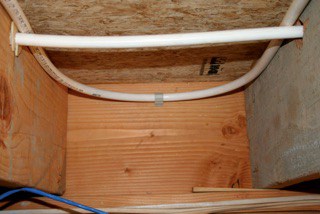 In the diagram above, you can see two pex water lines running close to the exterior wall, on an uninsulated header cavity.
The inside of this cavity should packed and sealed with foam insulation that is at least 2 inches thick. The pipe that is against the wood, would need to be on the warm side of the insulation. In order to prevent this from freezing, our
Kingston plumbers
would reccomeend undoing the clip that is holding the pipe, then put some acoustical caulking to create a seal, and to hold the insulation in place….then voila, no more frozen pipe stress. John The Plumber Kingston has been providing frozen pipe services to Kingston residents for over ten years. Give us a cal today at 343-477-1970
John The Plumber
308 Wellington Street Unit 4
Kingston, Ont
K7K 7A8
343-477-1970