BBQ Season: John THE Plumber Can Help!
Hello Ottawa! Mother Nature has been very kind to the Nation's Capital this winter season, and as a result people are looking to spring sooner than later. Something many homeowners are most excited for as warmer temperatures arrive is to get their BBQ's going as soon as possible. Our Ottawa plumbers want you to enjoy a long BBQ season grilling with your friends and family, but we also want you to do it safely. We decided to blog about the difference between the installation of portable and stationary BBQ's so you understand their structures from a safety standpoints along with a few other safety tips.
Portable BBQ's
You most likely have seen many portable BBQ's that come with wheels and utilize disposable gas or butane canisters. The best place to set these up is are on flat sturdy surfaces on a patio or a deck, and not too close to your home so there is room all around the BBQ for proper air circulation.
The actual lighting of these barbecues isn't difficult, but you do need to ensure that you repeat the required steps as follows as each one is important:
First things first check that all of your burners and rings are turned OFF. Next, open your BBQ's lid so air is flowing and so that any residual gas vapors that may have built up while the lid was closed dissipate. Then open your gas cylinder valve SLOWLY to begin the flow of gas.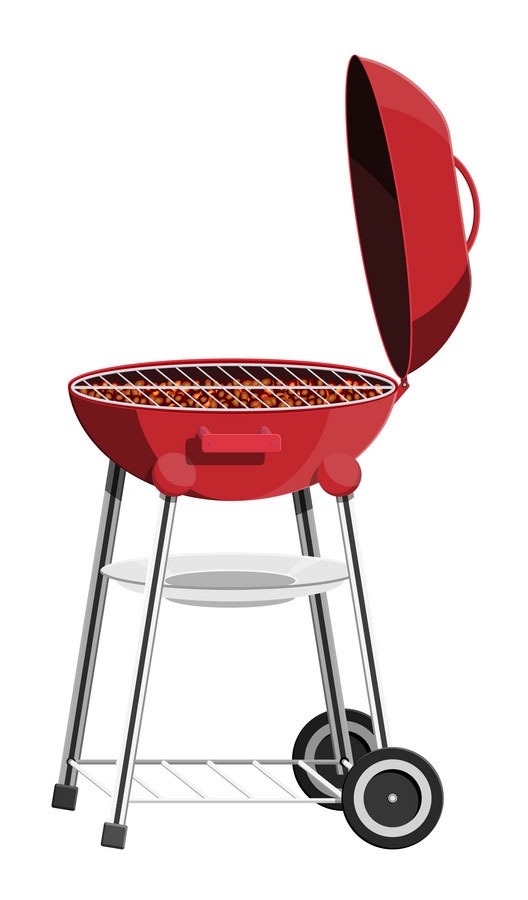 NOTE: If your gas bottles are disposable remember to open the service valve BEFORE you turn on your controls. Lastly, start the ignition source and turn on the burner controls starting with the one closest to the ignition and finish with the burner control that is furthest from it. You can close the lid once the gas has been burning for a little bit and the grill has heated up; never leave your BBQ unattended and keep an eye on any small children nearby. They truly are easy to use but can be very dangerous if not used properly. As long as you follow the instructions and be mindful while the BBQ is lit you should do great!
Stationary BBQ's
The BBQ's however that are stationary/ fitted designs built into a wall or an enclosure of some sort needs to be hooked up to your gas mains by a professional installer. The end result is the same (BBQ is good to go!), but fitted BBQ's are a much different set up that portable ones. If you are not a plumber or a gas fitter we strongly recommend that you do not try to do this without professional help. It is critical to observe that you are working with gas. Lack of proper knowledge while installing a stationary BBQ can turn a sunny afternoon into a serious situation.
John THE Plumber carries a gas license and would be pleased to send one of our certified technicians over to take care of your BBQ installation. And while we're there we can hook up your pool heater if you have one as well as take care of any other plumbing needs that you may have. Give our Ottawa plumbers a call today and we'll have you ready for BBQ season and ready to send out invites to your backyard in no time!
To discover more on the full range of services offered by our Ottawa-based John the Plumber, please call our offices today at 613-227-7465 or visit our business website at johntheplumber.ca