Drain Cleaning Services Hamilton
John THE Plumber Hamilton On Clogged Sink Drains
The smallest changes in your plumbing are actually worth noting; it is the maniere that your plumbing is able to communicate with you and to ignore them is a mistake. John THE Plumber Hamilton has heard the too little too late story so many times from home and commercial property owners alike. Biggest downfall is by the time we are on the scene the tiny change has now grown into a sizable issue. Our Company is a huge fan of sharing our plumbing expertise and tips about clogged sink drains.
Slowing Down
The main thing with clogged sink drains is they will begin to drain in a slower manner. It's kind of insidious really; we can see how it gets away from people. At first it's just a wee bit slow but the water still heads down the drain, then you will note bits of soap scum etc. formulating at the sink's drain… and then you've got a basin of stagnant water just sitting there and not moving. The minute you see water not moving as quickly as it usually does it's time to investigate so you don't run the risk of a bigger problem growing within your drain and pipes!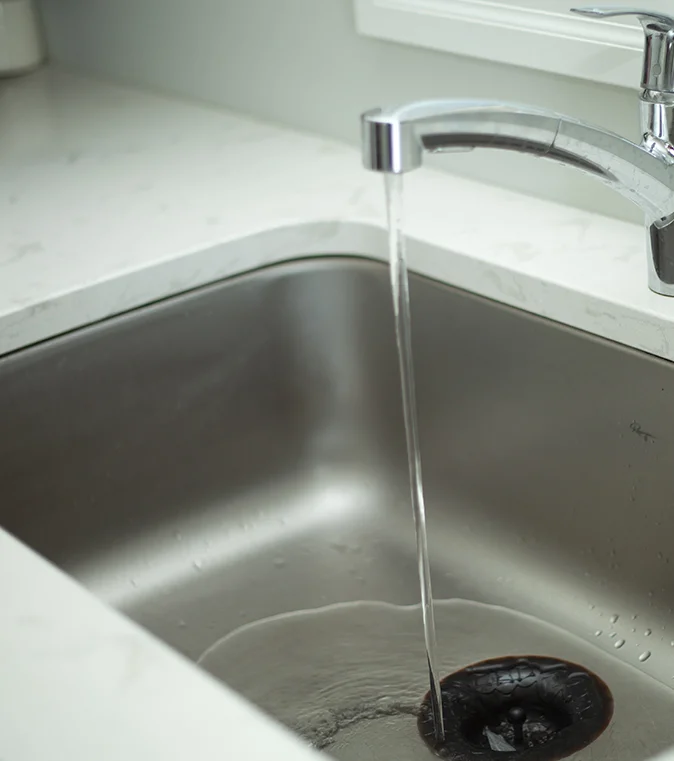 John THE Plumber Hamilton Can Help!
If we do get called onsite, one of our licensed Hamilton plumbers will drop one of our cameras designed for plumbing down your drain to see what kind of matter is causing your drain to back up to begin with. This will also tell them which of their state of the art tools they will need to use to break up the blockage and clear your drains.
Snakes and Hydro Jetting
Something called an auger (many of you may know this tool as a snake) would be used on larger tougher matter like tree roots. The tail of the snake if you will is sharp and powerful, able to chew right through tree roots and tar them into pieces. If the camera shows a thicker substance that's more like glue in nature (like hardened grease) your plumber will get his hydro jet equipment ready to break up the clog. Hydro Jets are very popular these days, this amazing tool blasts high powered streams of water down your pipes, swirling all sticky matters right off you pipes and down to the sewer. It's a pretty outstanding device by industry standards; many have commented their pipes look brand new once we get finished!
John THE Plumber Hamilton is pleased to help in any way we can; one phone call from you and you will see one of our vans arriving in your driveway faster than you can say clog! Do not delay- call us today!
GOT CLOGGED SINK DRAINS? CALL JOHN THE PLUMBER HAMILTON TODAY!
To discover more on the full range of Services offered by our Hamilton-based John the Plumber, please call our offices today at 905-645-0467 or visit our business website at johntheplumber.ca/hamilton
John the Plumber Hamilton – Fast , Friendly, Local Plumbing Service