What to do if Your Pipes Freeze? Turn off the Water, turn up the heat and call John the Plumber ASAP so it doesn't split!
Every winter in Kingston, homeowners dread having frozen pipes.  A pipe freezes for all sorts of reasons –  obviously the weather being the culprits 90% of the time. Any pipe that is not well insulated from the elements is at a risk of freezing at anytime, but especially during a deep cold snap.
Any pipe in your house that is frozen runs the risk of splitting because the ice buildup inside creates pressure. As we learned in science class at our fine Kingston schools. Water expands when it freezes, and is surprisingly strong. Strong enough to cause splitting in pipes, breaks at valves, and cracks anywhere along the copper or pex line.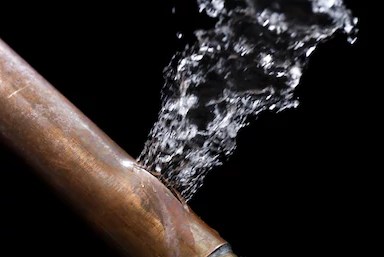 There are many ways to thaw a pipe – using electricity or some kind of radiant heat around it are the most common, and. obviously what we use will depend on what kind of pipe we are dealing with, where it is located and how accessible it is. Some pipes require some kind of ventilation around them – when they are in an area which is partially exposed and just a bit of warmer air can be sufficient to keep them from freezing and from having to thaw them in the ways explained above. Even a hair dryer or heat gun are sometimes all that is necessary. Some metal copper pipes use electricity to thaw whatever is frozen inside.
Also keep in mind that turning off the water and turning up the heat is the first and most important thing that you can do to prevent the problem from getting any worse. If you've been on vacation and your house has been sitting with the water off and the pipes of frozen you maybe into a big surprise once things warm up and thaw. You will need to call a plumber ASAP to get everything checked to make sure you have no cracks or split any pipe splitting anywhere in the house. Be very careful on any pipes running along outside or on a kitchen wall as these are the most common ones that are prone to being exposed to colder air and with minimal insulation around them.
An ounce of prevention is worth a pound of cure – keeping them from getting frozen and having to thaw them out is very important. Checking to make sure water is always flowing and making sure there are no drips beforehand is very important. If you rent out or sublet, you will want to ensure your tenant is taking the right precautions, and should notify you if they are going to be away in the winter so you can stay on top of this.
Every spring we get numerous calls about outdoor taps leaking and splitting. In the winter frozen pipes is one of the leading phone calls to Kingston.
We are Kingston's first and foremost plumbers – call John the plumber Kingston for all of your frozen pipe and thawing needs.
Our Kingston plumbers give advice on Thawing Frozen Pipes

Winter is finally here and with that can come some plumbing issues with your pipes. It can get really cold in Kingston and sometimes that means your pipes might freeze in your home.