Repairing a Clogged Sump Pump
Epic rainstorms… The Oakville area has seen it's fair share. As most homeowners know, when this happens so can flooding in your basement. You hope that your sump pump is ready and there's nothing to worry about. But if you haven't been checking on it, it may have developed a clog. A clogged sump pump won't preform it's main role and that's getting rid of the water coming into your home from the rain. This can result in a flooded basement. And No one wants that! John THE Plumber can help repair that clogged sump pump and also check to see if anything else may be wrong with it. We'll make sure you stay safe and dry when the heavy weather hits.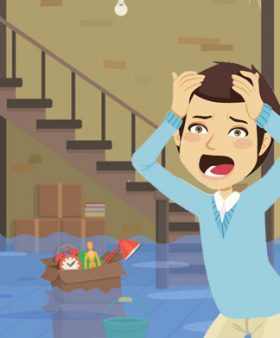 3 Reasons For a Clogged Sump Pump
The Mud Zone:
There are several different types of drainage systems that accompany a sump pump, one of them being called "a mud zone". This particular drain system is built right into the bowels of your basement floor underneath the concrete. What can happen is mud can get into the system and clog the drain. This will leave nowhere for the water to go, and in turn you will have a clogged sump pump. This is definitely something you want to keep your eyes on.
To fix this, that concrete floor we mentioned will need to be jackhammered open to make repairs – this takes time and money you don't want to spend believe us – keep watch!
The Perimeter Drain:
This sump pump drainage system's name explains it all. This drainage system isn't underneath your basement floor, it literally runs around the perimeter of your sump pump, and therefore is called a perimeter drain. It is very efficient; unfortunately it can catch too much being at floor level. Items such as sediment, debris and ya mud can get in there and cause a clogged sump pump. The best thing you can do is randomly check on your pump and ensure that its drain is cleaned out and ready to go!
The Float Switch:
This clog isn't to do with its drainage system. It's about a piece of the sump pump known as the float switch. The float switch is considered to be the brains of the operation if you will. As water rises up past where the water table says it's OK, the float switch is activated and sets the sump pump in motion to begin pumping water out of your home. And as you can imagine once the water heads back down to a reasonable level, the sump pump switch shuts off.
Problem is if debris/sediment etc. gets inside that switch it can make it stick in one position, meaning it won't be able to turn on or shut off, it will remain in whatever position it is in. This is just as much a problem as if your drainage system is clogged as you can incur a floor and/or the motor burning out. Check. Your. Pump.
Don't Delay! Repair That Clogged Sump Pump Today!
Don't wait for heavy rainfall or the thaw to arrive to see how your pump is working. If it's clogged it's too late and you'll be needing us there for reasons you don't want. If you are unsure give us a call and we'll come to you right away to make sure your sump pump is in good working order before a drop of water falls out of the sky!
DO NOT DELAY! CALL JOHN THE PLUMBER OAKVILLE TODAY!
To discover more on the full range of services offered by our Oakville-based John the Plumber, please call our offices today at 289-644-3856 or visit our business website at johntheplumber.ca/oakville