Quite a lot of calls come in to John The Plumber Oakville about toilet issues and repairs. After all it is one of the most used fixtures in your home. It can also use up to 65% of the water you use each month. Having an issue with your toilet can cost you money over time if you don't properly maintain it. That's money literally going right down the toilet.
Leaking or Running Toilets
A few causes for leaky or running toilets are, an improperly set float ball, leaking tank or bolt seal, cracked tank or bowl, worn out or improperly installed flapper or a malfunctioning ballcock or fill valve. You can see a few of those things labelled in the following image.
Take Care of it Right Away
A leaky or running toilet should be taken care of before it gets too bad. Even just a small leak can add up on your water bill so if you notice a small leak in or around your toilet, or if you find your toilet running when it hasn't been used for a while, then give John The Plumber Oakville a call right away!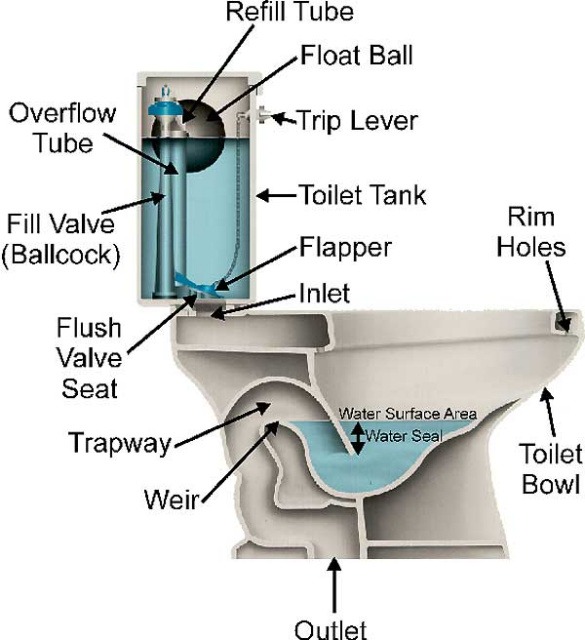 Clogged Toilets
Everybody has been in a not so optimal toilet situation at one point or another, so we all know that horribly embarrassing feeling one gets when we've blocked or clogged a toilet at anyone's house except our own! John the Plumber Oakville, truly cares about our clients, so we've provided you with some great tips in order to get that toilet flowing again. Even when there is no plunger in sight – Don't Panic! All methods below have been tried and tested by all of us here at John the Plumber Oakville, and we know they work.
Soap Method
Dishwashing soap is made to dissolve grease and build up on your dishes, and it will do the same thing in your toilet. If you can get your hands on a cup of liquid soap and a few cups of hot water you're in business. Pour the soap and hot water into the toilet; wait for 15 minutes and flush. Bleach is also a good alternative if dishwashing soap is not available.
Home Volcano Method
Just like that amazing volcano you made in science class in grade 4, you are can create the same chemical reaction to unblock toilets! Go to the kitchen and grab some baking soda and vinegar. Pour one cup of baking soda into the toilet bowl, then slosh the white vinegar over the baking soda and wait for the reaction! Wait about 15 minutes after the eruption, throw some hot water down the toilet and wait five more minutes. Flush once. This is great for stubborn blocks.
Wire Hanger Method
If it's still blocked you may need to get a wire coat hanger. Straighten it out and best you can and wrap a rag at the end so you do not damage the bowl. You also may want some rubber gloves as this will most likely be a little messy. This is the quickest makeshift toilet snake you can use and truly been known to get rid of some of the worst blocks in an emergency.
Still Blocked Method
Take off the gloves, pull out your cell phone and make a quick call to John the plumber Oakville!
IMPORTANT TIP: DO NOT use the Volcano Method if you have already tried using bleach; baking soda and vinegar do not mix well with bleach and will create a nasty gas that can make you sick!