John The Plumber Mississauga are experts in faucet repair
Faucet repairs can vary in difficulty, depending on the type of faucet that you own.  We always recommend going with a Delta, or a Moen faucet because parts are not only guaranteed for life, but they almost never break down.  Most of the service calls that I do on faucets these days are on some of the lower end faucets.  No name and big box store brand faucets are a nightmare to repair.  Nobody feels like paying a plumber to go and search out mysterious parts, that in the end, we may not even be able to find.   We will often advise our customers to repair any delta or Moen faucets that are leaking, and to change any no name brand faucets to a Moen or Delta.
The big brand faucet companies will often have parts available throughout the city. Most faucet repairs can be completed in under half an hour if the parts are easily available.
Sometimes the problem isn't a leak though. Some of you will have stumbled onto this page because you were trying to figure out why you have lost pressure in your faucet. And the most common reason would be the aerator.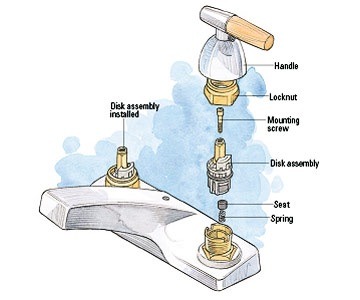 Luckily for you, the aerator is probably the easiest fix in plumbing.  Most aerators will thread off by hand, and you can get a replacement for only a few dollars at home depot or rona.  What happens over time is that the little holes in the aerator block up with debris.  Flakes of calcium and whatever else is in your water will plug these over time.  Luckily, it's an easy fix.